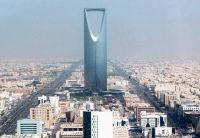 There is a good news for Indians looking at Saudi Arabia as an investment destination.
The ongoing turbulence in West Asia has not impacted the kingdom.
In fact, Saudi Arabia has invited Indian investors to be partners in investment opportunities of the order of $1.4 trillion in the fields of infrastructure, power, natural gas, railways, whole range of IT, petrochemicals, fertilisers and healthcare.
Talmiz Ahmad, India's ambassador to Saudi Arabia, told
Business Standard
: "Indian investors should have no apprehensions in the context of the ongoing protests in West Asia. Indian investors can participate in Saudi Arabian projects with complete confidence and satisfaction that they will be welcomed by the business community."
Of the $1.4 trillion investment opportunities, almost $90 billion each is proposed in petrochemical projects and power generation, $88 billion in water desalination plants and $50 billion in natural gas-related projects.
Ahmad said the kingdom is one of India's major economic partners and home to the largest overseas Indian community that remits to India $15 billion (Rs. 67,540 crore) per annum.
"It is the largest source of oil imports, providing 18 per cent of our requirement. I do not believe that the ongoing ferment in the region will have any adverse implications in Saudi Arabia.
"This is because the royal family is very close to its people and the king is loved and respected. The kingdom also has initiated a number of proposals to address the interests of the different sections of its community," he said.
Ahmad was speaking on the sidelines of an interactive session organised by the Federation of Indian Chambers of Commerce and Industry.
According to Ahmad, the kingdom also has a very active national assembly and a process of national dialogue to address important issues such as political participation, human rights, status of women and place of religion in the polity.
"I am confident Saudi Arabia will remain India's major economic partner and attract investments and encourage joint ventures.
"The first and most important area is infrastructure and particularly railways, downstream energy projects, especially fertilisers and in services whole range of IT.
"Recently, Saudi Arabia has identified a multi-billion dollar phosphoric acid plant project for Indian companies. Subsequently, the department of fertilisers has launched a direct communication with Ma'aden, a mining resources development company, which has invited investment in the phosphoric acid plant," he noted.
Ahmad stated Saudi Arabia General Investment Authority is the nodal authority for investment promotion in the country.
Unlike the UAE, Saudi Arabia offers 100 per cent foreign ownership in Saudi-based projects. But, he said Indian investors should tie up with a local partner.