K V Kamath, non-executive chairman of ICICI Bank, on Friday said the rupee was undervalued.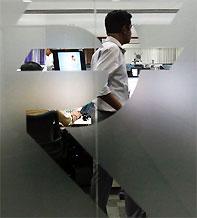 Speaking to reporters after delivering a lecture on the current state of the economy, he said, "In the last few months, the currency has responded to very thin cues, and movements have been very violent…Ultimately, the economic health of the country will define the balance of your currency."

Kamath said India's economic climate had started improving. "Policy (is) moving forward to create an environment for the business to again start getting confidence." He said though industry might still lack the confidence to implement projects, at least it had started responding positively. These, he said, were signs of a mood change. "In the past, we have seen the mood changes very quickly."

"Our (monetary) policy needs to follow local conditions primarily. But we always keep in context global happenings," he said, referring to the US Federal Open Market Committee's meeting scheduled for September 17-18.

He said he would be happy if growth in India's gross domestic product stood at 5.5 per cent, adding economic growth had bottomed
out. Lack of consumers was leading to lower growth, he said.
On the fiscal and current account deficits, he said it would be fair to assume the government would deliver. "If the economy grows, things would be addressed on the fiscal side," he said, adding, "The finance minister has said he is confident of keeping fiscal deficit at 4.8 per cent…in the past, he has always delivered on what he has said. I have no reasons to disbelieve that." On the current account deficit (CAD), he said collective actions taken in the last few days would help contain CAD.
He added there was a need to look beyond textbook responses to inflation.
Asked about his views on the announcement of Gujarat Chief Minister Narendra Modi as the Bhartiya Janata Party's prime ministerial candidate, he said, "In politics, over last 15 years, all governments have done well for this country. I would like to look at the economic context, without looking at political constraints."
He praised the model of development in Gujarat. Asked if Modi could replicate the model across the country, he said, "That is something we'll have to see…but the Gujarat model is something which we can all be proud of…I see other chief ministers understanding that and building on it."