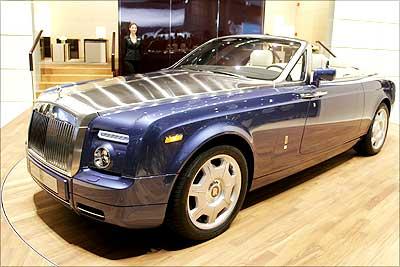 Rolls-Royce cars returned to India last year with its Phantom sedan. Now, it has a new product for the Indian market. This is the car that will be available in India starting next month: the Rolls-Royce Phantom Drophead Coupe. And while several vintage Rolls-Royce convertibles can be found in India, this is the luxury carmaker's latest offering, and the company is confident it will do well in India.
Ian Robertson, CEO, Rolls-Royce told CNBC-TV18, "I think it'll have a very positive reception. Many of the older convertibles, dating right back to the '20s and '30s are in India today. So, we anticipate this will have a strong hold in our sales, going forward."
Rolls-Royce is also opening its second Indian outlet in New Delhi, in the coming weeks. The first opened in Mumbai in 2005. Despite the price tag for a car such as this - over three and a half crore rupees - Rolls-Royce is banking on India's new millionaires.
Robertson adds, "I think there are still maharajahs who are buying these cars but we are also seeing the introduction of the car to many new entrepreneurs - people who have started up their businesses, people who have seen a great deal of success in just a few years. And from that perspective, right across Asia, we see a much younger profile in our overall sales now."
Watch out for this multi-crore status symbol on Indian roads. The age of the maharajahs may be in the past, but Rolls-Royce sees its future in India in the maharajahs of the new economy.
The new Rolls Royce Phantom Drophead Coupe was revealed at the 2007 North American International Auto Show on January 7, 2007 in Detroit, Michigan.
Photograph: Bill Pugliano/Getty Images
For more such reports log on to www.moneycontrol.com