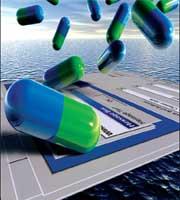 Early this month, US-based Perrigo, one of the largest over the counter (OTC) pharmaceutical producers in the world, acquired an 85 per cent stake in Mumbai-based Vedants Drugs and Fine Chemicals. Perrigo said it wanted to make India a major global production base.
A fortnight earlier, Sanofi Pasteur, a French vaccine maker, acquired the Hyderabad-based vaccine major, Shantha Biotechnics, for over Rs 3,000 crore (Rs 30 billion)
There's more. Wockhardt sold its loss-making German subsidiary, Esparma, to Mova GmbH and its animal health division to Vetoquinol, a French veterinary care company, to raise close to Rs 300 crore (Rs 3 billion).  A few weeks earlier, the company sold its nutrition business for Rs 625 crore (Rs 6.25 billion)  business to Abbot Laboratories.
Put another way, the roles have now reversed in the Indian pharma M&A space. In the growth years of 2005 to 2008, companies like Wockhardt, Dr Reddy's and Ranbaxy were busy shopping abroad to expand their global footprint. In 2007-08 alone, Indian drug companies made 14 acquisitions abroad at a cost of Rs 6,500 crore (Rs 65 billion).
It's the turn of overseas companies now to buy Indian assets aggressively.  In recent months, foreign companies have implemented at least half a dozen major buyouts. 
"For the next two years, inbound acquisitions will outperform the number of outbound acquisitions in the Indian drug industry," Sujay Shetty, associate director of PricewaterhouseCoopers, said.
There are many reasons for this, the main one being large drug makers are looking at India as one of their major markets, as their growth in own markets are diminishing. "Besides, they are looking at India as a major destination for low-cost manufacturing to cut production expenses," Ajit Mahadevan, partner -health sciences practice, Ernst & Young, said.
He said the trend in future would also include buyout of niche producers in areas such as domestic formulation, injectables, vaccines and allied business such as hospital products and medical devices.
The history of failed acquisitions by Indian companies in overseas territories is another reason. Sun Pharma's attempts to acquire Israeli company Taro Pharmaceuticals have run into a legal tangle and Dr Reddy's struggle to integrate Betapharm in Germany have been definite deterrents. The attraction of the Indian market is hard to resist, experts said. The country is currently the fourth-largest drug maker in the world in terms of volume and tenth in terms of value.
The US pharmaceutical market, which constitutes around 48 per cent of the global market, with $224 billion of sales, grew only three per cent for the 12 months ended March 2009 and sales in the top five countries in Europe grew only two per cent to $110.3 billion during the same period, according to HDFC Securities. As against this, the Rs 35,000 crore (Rs 350 billion) domestic drug market is growing at an average 10 per cent annually. It grew 8.9 per cent in July and 18.3 per cent in June, according to drug sales tracking agency, ORG IMS.
Most acquisitions by Indian companies in the past were heavily dependent on borrowings and now a majority of those companies are struggling to service the loans for acquisitions.
For example, analysts note, Wockhardt had run up debts of over Rs 3,400 crore (Rs 34 billion), mainly because of the aggressive acquisition strategy it followed in 2006 and 2007. In October 2006, Wockhardt had bought Ireland-based Pinewood Laboratories for $150 million and after five months, it acquired Negma Laboratories of France for $265 million. In November 2007, it paid another $38 million to buy Morton Grove Pharmaceuticals in the US.