Indian firm to soon launch copycat of anti-breast-cancer drug

For Swiss pharma major Roche, not pursuing an Indian patent for its anti-breast-cancer drug, Herceptin, might mean a loss of millions of dollars. But that might translate into a windfall for Bangalore-based biotech company Biocon.

Roche had on Friday said it would not pursue a patent for Herceptin in the country, allowing Indian generic makers to produce cheaper versions of Trastuzumab, which it sells under the Herceptin brand name. It did not even renew its patent licence, which was due in May.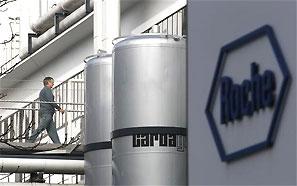 Early this year, the Indian government had decided to issue compulsory licences to three patented cancer drugs in India — Trastuzumab, Ixabepilone (used for chemotherapy in breast-cancer treatment) and Dasatinib (for leukaemia), after Hyderabad-based Natco Pharma was given a compulsory licence to manufacture the generic version of Bayer's patent-protected anti-cancer drug Nexavar last year.

Biocon, which has completed Phase-III trials for Herceptin biosimilar, is expected to shortly launch the drug in India. Chairman & managing director Kiran Mazumdar-Shaw said: "We have completed the Phase-III trials and are awaiting the result. We are sure the product will be launched this financial year." However, she refused to disclose details of the product's pricing.

In the case of Herceptin, what gives Biocon an edge over other Indian pharmaceutical giants is the drug's complex nature. As a biological drug, Herceptin is a monoclonal antibody — an area most Indian companies do not have an expertise in. So, other Indian players are unlikely to launch a Herceptin copycat before Biocon's version hits the market.

When Herceptin first became available in India in 2011, it was priced at around Rs 1 lakh per vial. Last year, Roche lowered it to Rs 92,000. Later, the price was further reduced to Rs 72,000, when Roche entered into a tie-up with Pune-based Emcure Pharma to launch Trastuzumab under the Herclone brand.

India is a Rs 130-crore (Rs 1.3 billion) market for Herceptin. The launch of Biocon's generic version is expected to lower the treatment cost with the drug to about half.

Biocon had last week rolled out its first biologic drug, ALZUMAb, for the treatment of auto-immune disease psoriasis. In 2009, it had partnered with Mylan Inc to develop five complex biosimilar drugs in the cancer and pain segment. According to the agreement, biosimilar Trastuzumab is the first one to hit the Indian market.

Other biosimilars for which studies are going on under the JV are Peg-filgrastim (Neulasta by Roche), Bevacizumab (Avastin by Roche), Adalimumab (Humira by Abbott) and Eternacept (Enbrel by Pfizer). These drugs together have a $33-billion market globally.

Unlike a generic copycat (a chemically-synthesised molecule with the same efficacy), a biosimilar is copy of a biological compound (such as an antibody made by a living organism) which would be equivalent to the original product. As biological drugs are sensitive to changes in manufacturing processes, making of biosimilars, especially mono-clonal antibodies is difficult and complex.
Opening the door

Roche not pursuing a patent for Herceptin in the country, allowing Indian generic makers to produce cheaper versions
Biocon, which has completed Phase-III trials for a Herceptin biosimilar, may launch a product this financial year
Herceptin's price, at around Rs 1 lakh a vial in 2011, was lowered to Rs 92,000 last year and then further Rs 72,000
Treatment cost with Herceptin may be reduced to about half with the launch of the drug's cheaper version
India is a Rs 130-crore market for Herceptin