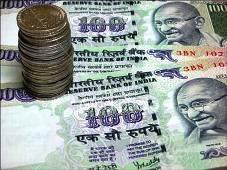 The new year may bring some cheer to Indian consumers and companies on the interest rate front.

Mumbai-based lender Union Bank of India has reduced its base rate, the benchmark lending rate, by 10 bps to 10.65 per cent with immediate effect.

The cut is small and may not provide significant relief to borrowers, nonetheless it signals the beginning of a benign interest rate regime.

This is the first time in two years that a bank has reduced the lending rate.

According to M V Nair, Chairman and Managing Director of Union Bank of India, the decision was taken after reviewing the cost of funds.

"We reviewed the components of the base rate and decided to pass on the benefit to the customers," he said.

A lack of demand for loans and a pause in the rate hike signal by the central bank also prompted the bank to act on the interest rate front.

Credit growth is at a 21-month low, with year-on-year growth falling to 17.08 per cent as on December 16.

This is the lowest rate of growth since March 2010.

Credit growth has been below the central bank's projection of 18 per cent for the past two months.

Most of the banks are of the view the cost of deposits, a key component that determines the base rate, has not increased and a decision to bring interest rates down would depend on signals from the Reserve Bank of India, which will review the monetary policy on January 24.

Bankers expect the RBI to start cutting the key policy rate by 25
bps in the January review.
The State Bank of India also said interest rates would come down, but it would depend on the cost of funds.
"Eventually, rates will soften but it is difficult to predict when.
"The cost of funds is yet to show any decline. We have to wait and watch," said Diwakar Gupta, managing director and chief financial officer.
He said since liquidity remained tight, the bank was unable to reduce deposit rates.
SBI's base rate is 10 per cent, the lowest among public sector banks.
"We have not taken any decision yet. Our asset liability committee will meet to review the rates," said M D Mallya, chairman and managing director of Bank of Baroda.
"Even if deposit rates are lowered, it will take some time for any significant reduction in the overall costs.
"We will wait for the RBI's rate action," Mallya said.
"We will discuss it but I don't think we are looking to revise our rate soon.
All eyes are on the RBI policy. The regulator has clearly indicated the rate hike cycle has ended.
"So, interest rates are not going to go up for sure," said M Narendra, chairman and managing director of Indian Overseas Bank.
"The talk of an RBI rate cut also gained momentum with food inflation coming down significantly.