Mukesh Ambani, after completing the world's largest oil refining complex at Jamnagar in Gujarat, has now set his eyes on owning refining assets in the US and Europe.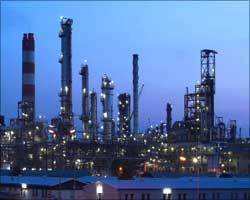 His Reliance Industries has initiated preliminary discussions with US-based refiners such as Valero Energy Corp, Sunoco Inc and Flying J Inc for acquiring refineries, said sources in the know. Royal Dutch Shell's three refineries in Europe are also on the Indian refiner's radar, they added.
Two senior officials said RIL was gearing to acquire assets worth $3-4 billion (in the range of Rs 14,000-18,500 crore). Funds for acquisition will not be an issue, as it is sitting on a cash reserve of $5 billion (Rs 25,000 crore).
"As value depreciation is still very much an issue with refining assets in the US and Europe, RIL feels the timing is perfect for an acquisition. We are keen to have a global presence in refining, especially with some assets in the developed economies," said an executive who did not wish to be named.
Last week, RIL senior Vice-President Maurice Bannayan said, "We are in advanced talks with looking at refinery and petrochemical units for acquisition in the US and Europe, mostly in the US."
When asked, Valero spokesperson Bill Day said, "Valero has had its refinery in Aruba (in the Caribbean) available for sale since 2007, and we said we would aggressively seek strategic alternatives - which could include a sale – for our refineries in New Jersey and Delaware. Valero does not identify the parties that have expressed an interest in any of our properties."
Virginia Parker, director of Marketing at Flying J, said: "We have no comment at this time. All matters surrounding sale of assets are subject to strict confidentiality requirements." Sunoco officials declined to comment.
A RIL spokesperson said, "As a corporate policy, we do not comment on speculation."
Many European petroleum giants have put their refineries on the block after a slump in demand for fuels and petrochemical products. These refineries are either running at lower profit margins or have shut, said a Mumbai-based analyst. However, RIL feels there are signs of recovery in these markets and once the financial situation improves, the demand would trek high.
After the crash of financial markets, Valero had cut costs at plants at Paulsboro in New Jersey and Delaware City and pursued "strategic alternatives" for them and the shuttered 235,000 barrels per day (bpd) Aruba refinery, Chief Executive Officer Bill Klesse said in a recent memo to employees. Previously, Valero, which operates 18 refineries throughout the US, Canada and the Caribbean, used the term strategic alternatives when it put a refinery up for sale.
The Paulsboro refinery is in the same New Jersey county as the refinery Sunoco is shutting. Sunoco recently announced plans to indefinitely shut its 145,000 bpd Eagle Point refinery at Westville in New Jersey, furlough 400 workers and halve its dividend, as the continuing recession hurts the US refiner's profits.
Weak demand for refined products during the financial downturn, coupled with increased capacity, has pressured margins through the industry, and it is the right time for RIL to buy refineries at low cost, analysts said.
Big West Oil LLC, which has two refineries in the US, has halted taking deliveries after parent Flying J filed for bankruptcy. Big West's Bakersfield refinery has a processing capacity of 68,000 bpd, according to data compiled by Bloomberg. Big West also has a 30,000 bpd plant in Salt Lake City.
Swiss-based refiner Petroplus said earlier this year it would sell its Teesside refinery in the UK by the end of June or turn it into a storage site if no buyer can be found. The 1,17,000 bpd plant stopped production in March 2009, when the company stopped buying crude for it.
Shell has been looking to sell its Harburg and Heide refineries in Germany for the past six months. In August, sources said India's Essar Oil had given a bid for both refineries, as well as for Stanlow, Shell's another refinery in the UK. Harburg has a capacity to process 110,000 bpd, while Heide can process 93,000 bpd. Stanlow has a capacity to process 267,000 bpd.
Other refineries up for sale in Europe include Italian firm Eni's Livorno refinery and Swiss-based Petroplus' Teesside refinery.
RIL is also eyeing the fuel retailing markets of the US and Europe, more than a year after it closed retail operations in India. Selling petrol directly in the US market could save the company a 5 to 10 per cent additional cost as traders' commission, and the company has approached the US authorities for approval to start direct fuel sales.