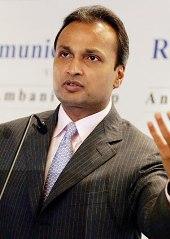 Industrialist Anil Ambani has committed to invest in green energy and source the technology from the US, a move that helped the US Exim Bank change its mind within a week to guarantee $600-million loan to his group's coal-fired power project in India.
After rejecting a request for financing the 4,000 MW ultra mega power project in Sasan, Madhya Pradesh, last Thursday, the Exim Bank reversed its decision on Monday after a conversation its chief Fred P Hochberg had with Anil Dhirubhai Ambani Group chairman Anil Ambani.
The Bank's change of heart was made public on June 30, also the day when a full-page ad appeared in a local newspaper about the possible job losses at a factory that would supply equipment for the Indian project, for which the funding was sought.
"I was pleased with our conversation on Monday, in which we agreed that the Sasan project should be resubmitted for Board consideration, including new information," US Exim Bank's chairman and president Fred P Hochberg wrote in a letter to ADAG chairman Anil Ambani, dated June 30.
"I look forward to working with you on these projects (Sasan as well as committed renewal energy projects) with the intent to finance the sale of the Bucyrus-made mining equipment and support US jobs," Hochberg said.
AP reports said that 'word of a deal that could save 1,000 jobs across 13 states, including 300 in Wisconsin, broke just hours before President Barack Obama was to speak at a town hall meeting on the economy.'
A few US Senators had already lobbied with the White House in favour of Bucyrus International Inc, the supplier for ADAG's UMPP.
The bank had cited environmental concerns last week while rejecting loan guarantees to ADAG's Reliance Power.
AP reports said: "The issue was a hot political one for Obama, who was holding a town hall meeting on the economy in Racine, a city 24 kilometers south of Bucyrus headquarters that's suffering under 14.2 per cent unemployment.
"A Republican candidate for governor, Scott Walker, took out a full page ad in the Racine Journal Times blaming 'radical environmental policies' for putting the Bucyrus deal at risk.
"Both Democrats and Republicans urged reconsideration of the vote, arguing that the Indian company would turn to other suppliers outside the US if the loan guarantees weren't made."
Last Thursday, the Export-Import Bank of the United States (US Exim) had rejected a request from Reliance Power to provide $600-million loan guarantee for the $4.5-billion ultra mega power project at Sasan in Madhya Pradesh on environmental grounds.
According to the letter, the primary aim of Exim Bank is to grow and sustain American jobs through exports.
"However, the board is also required by statute to consider the possible adverse environmental effects of all transactions," it added.
The 3,960 MW coal-fired power project is projected to emit 26,000-27,000 tonnes of carbon dioxide per annum.
Meanwhile, the US Exim Bank said it is willing to enter into a Memorandum of Understanding to encourage Reliance Power's purchase of US renewable energy technology.
"This MoU would relate to the construction of renewable energy power plants, producing at least 250 megawatts of power, which are expected to produce no carbon emissions," the letter said.
Pointing out that it would be among the largest renewable projects built in India, Hochberg said it is the mutual desire of both parties that the (renewable energy) project be 'sourced from US companies on commercially competitive terms'.
Image: Anil Ambani