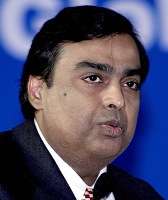 Hearing in the gas row between the Ambani brothers entered the final phase in the Supreme Court on Wednesday with Mukesh Ambani Group Reliance Industries Limited asserting that government approval on gas pricing is mandatory, a contention opposed by the Anil Ambani-led Reliance Natural Resources Limited.
RIL said RNRL has maintained that the May 12, 2005 draft agreement between the RIL and NTPC should be the basis for fixing the price of gas from the KG Basin but it has ignored the provision for government approval.
"If you go by the NTPC draft agreement which the RNRL says is the template agreement for the supply of gas then there exists a clause that the price of the gas is subject to the government approval," RIL's counsel Harish Salve submitted before a Bench headed by chief justice K G Balakrishnan.
RNRL has been demanding the gas at $2.34 per unit, the rate at which RIL had agreed to supply to the NTPC.
"So RNRL's contention is vague and absurd," Salve said before the Bench, also comprising Justices B Sudershan Reddy and P Sathasivam. RIL was countering the arguments of RNRL which in its submission today claimed that it has always advocated that the dispute can be resolved by mutual discussion.
RNRL's counsel Mukul Rohatgi accused the RIL of scuttling the attempt to resolve the dispute out of court.
He said the Mukesh Ambani Group has stated that the Supreme Court can decide the gas row.
Image: Mukesh Ambani