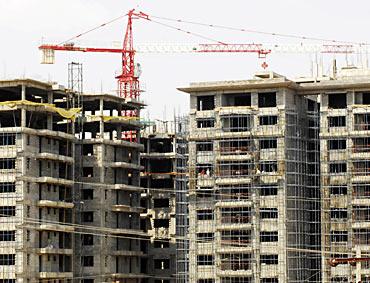 Despite aggressive marketing and offers made by real estate developers during the days before Diwali, investments in property have remained lukewarm due to high prices of houses in and around the National Capital Region (NCR), according to a survey by industry body Assocham.
The major factors behind the slump are high prices of land and unprecedented rise in the cost of construction materials, iron, cement and labour, the survey said.
The demand saw a surge of only 20 per cent on the eve of the festival compared to the normal average sale per month, the survey said.
The survey was carried out in major cities like Delhi-NCR, Mumbai, Bangalore, Chennai, Kolkata, Ahmedabad, Hyderabad, Pune, Chandigarh and Dehradun, gathering information from 250 property dealers, noted 40 builders/developers and 20 divisions of housing financing.
Majority of the developers have complained that inordinate delays in getting necessary approvals from multiple regulations and authorities resulted in cost and time overruns.
There was another factor at play which is apathy of banks in financing real estate projects in the absence of industry status, said the Assocham survey.
Assocham Secretary General D S Rawat said the resale or secondary market was dull this festive season as there was very little resale going specially in the NCR and surrounding areas.
The survey report suggested that the government should act as a facilitator rather than a regulator of the real estate projects, particularly where demand is more than supply.
Also, all approvals of real estate projects must be accorded in a time bound, accountable and simplifies manner. Process and status of all approvals be made on line so as to bring transparency.
The state governments should complete their land records process and make the same computerised and supporting infrastructure; not only transportation and logistics but also water, power, housing, healthcare and sanitation must be taken up in tandem, it said.
According to the survey, the government must grant industry status to the real estate sector and the real estate projects must be classified as infrastructure and priority lending should be made available for keeping pace with the demand and supply scenario.