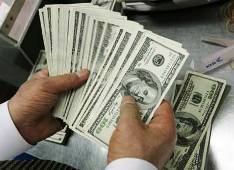 With rupee depreciating sharply against the US dollar, the Reserve Bank on Tuesday ordered state-owned oil companies to purchase their dollar requirement from a single public sector bank so as to curb volatility in the currency.

State oil refiners, who are the biggest buyers of US dollars, agreed to implement the RBI order with immediate effect, sources with direct knowledge of the development said.

The companies were even willing to accept RBI selling dollars directly to them through a single window.

RBI issued orders to Indian Oil, Hindustan Petroleum, Bharat Petroleum and Mangalore Refinery to stop seeking quotes from several banks for their $8-8.5 billion of monthly US dollar requirement.

Oil firms seeking multiple quotes for their dollar requirement was felt to be one of the reasons adding to speculation on demand for the American currency and volatility in the local unit.

RBI, sources said, asked oil firms to buy dollars from a single bank at their published reference rate.

IOC, the nation's largest refiner, will buy their monthly requirement of $3.8-4 billion dollars from its official banker State Bank of India.

Similarly, BPCL, HPCL and MRPL will buy their dollar requirement from a single bank.

The decision follows Monday's
meeting between RBI and oil firms to discuss measures to control volatility and high fluctuations in the exchange rate.
The central bank had last year suggested that refiners buy their dollar requirement from a single public sector bank to end speculation in rupee market caused by competitive quotes taken from multiple banks.
But the measure was never implemented as RBI did not give written order as sought by oil firms to end their practice of seeking competitive quotes.
Last year, RBI's instruction on single bank purchase was not implemented as oil firms said that banks quote different rates and they were as per CVC's guidelines required to discover the best rate through competitive bids.
The oil firms had asked RBI to give a written order mandating a particular bank for dollar purchases so that they are insulated from CVC action but the central bank did not issue any such order, sources said.
An option being mulled is to provide refiners a separate window to meet their needs.
Rupee had fallen to record low of 61.2125 per dollar on Monday but recovered today at end at 60.1450.
The rupee has fallen over 12 per cent from April-end when it was 53.8 against the dollar.
Sources said oil companies at Monday's meeting explained to RBI their dollar requirement and that they inform the central bank 5 days in advance before dollar buying.