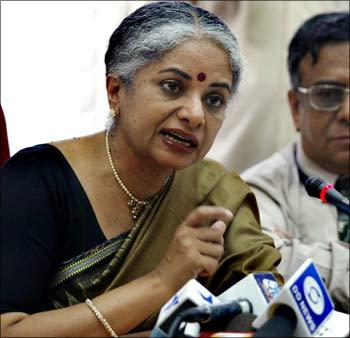 Reserve Bank of India Deputy Governor Usha Thorat is demitting office on Tuesday, after spending nearly 38 years at the Mint Road in various capacities during which she has had a stint in virtually every area of central banking.
An alumina of Delhi School of Economics, from where she secured a Master's in Economics, Thorat joined the central bank way back in 1972.
Before being appointed as the Deputy Governor on November 10, 2005, she was one of the executive directors of RBI, a position she held since April 2003.
Born on February 20, 1950 in Madras, she did her college from Delhi's Lady Shri Ram College.
Thorat has been overseeing the departments of banking operations and development, banking supervision, currency management, rural planning, credit department, and financial inclusion among others during her last years at RBI.
Thorat had vast experience in cash and debt management of central and state governments, government securities market development and regulation, financial markets, forex reserves management, foreign exchange management, banking regulation and supervision and payment and settlement systems.
She was also a member of the faculty at the Reserve Bank Staff College and also served at RBI's Guwahati office.
She had also been on the boards of Bank of Baroda, Indian Overseas Bank, Nabard and the Securities Trading Corporation of India.
Thorat was
also on major committees of the RBI such as the Group on Instruments of Sterilisation, Group of State Finance Secretaries on Fiscal Risk of Guarantees, Group on Ways and Means Advances to States and the Committee on Capital Account Convertibility.
The banking industry and RBI insiders were taken aback when the Finance Ministry refused to give Thorat a two-year extension, something that most of the deputy governors used to get.
It was more intriguing when her colleague Shyamala Gopinath was given a two-year extension just 10 months before.
This was in sharp contrast to the earlier practice of deputy governors routinely getting an extension till they reached 62.
The decision of North Block was surprising given that in her long stint at the central bank, and especially over the last two decades, Thorat was in the thick of every challenging RBI assignments including during the Asian currency crisis of 1997 and the recent global financial meltdown.
Anand Sinha, an executive director of the RBI, will replace Thorat, but whether he will get to handle the departments overseen by Thorat is not known.
Image: Usha Thorat