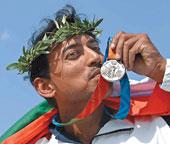 A year after shooting his way to a silver in the Athens Olympics, Rajyavardhan Singh Rathore is all set to ride the gravy train.
Allowed by the Defence Ministry to endorse brands, Rathore, an officer in the Army, has finalised contracts to endorse the products of the Sahara group and Hero Honda, while discussions are said to be progressing well with Coca-Cola India.
In the process, Rathore will become the first serving army officer to endorse brands. Thus far, he has been the Army's brand ambassador, appearing on billboards advocating a career in the armed forces. But the real thing, and the moolah, come now.
"Lt Col Rathore has signed three-year contracts with both Sahara and Hero Honda, while the details are still being worked out with Coke," Collage Sports Management Director Latika Khaneja told Business Standard. Collage, best known for managing cricketer Virender Sehwag, had signed up Rathore some time ago.
Shooter Rathore is being viewed, along with tennis player Sania Mirza and Formula 1 driver N Karthikeyan, as one who will break the cricketer-film star glass ceiling of celebrity endorsement. But he is not quite there, yet.
The Hero Honda and Sahara deals will bring him "not as much as cricketers get", said a source close to the deals. Then there is the Army, which will get 5 per cent of Rathore's endorsement earnings to promote sports in the force.
Nevertheless, the deals will put the marksman firmly in the constellation of sought-after celebrity endorsers. "The fact that you are signing contracts makes you very much a part of the hierarchy," said Khaneja.
Collage is in talks with Doordarshan to improve the visibility of shooting. The idea is to focus on the small ones first, Asian Games and Commonwealth Games, which are largely DD's territory.