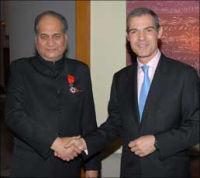 France has awarded its highest civilian award, 'Knight in the Order of the Legion of Honour', to Rahul Bajaj, Chairman of Bajaj Auto.
On behalf of France's President Nicolas Sarkozy, French Ambassador Jerome Bonnafont conferred the "Chevalier de l 'Ordre de la Legion de' Honneur" on Bajaj at a glittering ceremony held at the envoy's residence in New Delhi.
France bestowed the honour in recognition of Bajaj's remarkable career as businessman, his successful management of Bajaj Group and his notable entrepreneurial spirit.
The French Republic confers several distinctions among which the Order of the Legion of Honour is the highest distinction that can be conferred on a French citizen as well as on a foreigner.
The Order of the Legion of Honour was instituted in 1802 by Napoleon Bonaparte.
On accepting the honour, Bajaj said:
"It is indeed a great honour to receive this recognition. It is a great honour for the members of the Bajaj Group and a tribute to the spirit of entrepreneurship."
Bajaj, a graduate in economics and law with an MBA from Harvard Business School, hails from an illustrious family that has made rich contributions to nation building and has been associated with the Indian freedom struggle.
Jamnalal Bajaj, grandfather of Rahul Bajaj, was considered the fifth son of Mahatma Gandhi.
In recognition of his personal qualities, President of India awarded Bajaj the Padma Bhushan in 2001.
Bajaj was elected to the Rajya Sabha in 2006.
Bajaj Group is India's leading industrial house with a market cap of about Rs. 78,000 crore (Rs. 780 billion) and functions with deep social commitment and practices the highest norms of corporate governance.