Godrej Properties, the realty arm of the Godrej Group, has done many joint ventures with group companies and others and launched large housing projects at a time when home sales in general have taken a big knock in Mumbai and the National Capital Region (NCR). Adi Godrej, chairman and managing director of Godrej Group, talks about the developments in the company and the realty sector.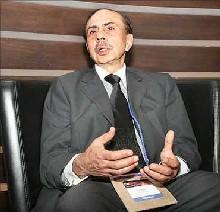 The market was disappointed with your recent deal with Godrej & Boyce, wherein you get 10 per cent of revenues from the project as development manager. It was expecting a deal similar to the one you did with Godrej Industries where you shared profits...

Analysts have not understood the deal properly. It is a good deal for Godrej Properties as we need not to do any investments. We can do other joint ventures with land owners where we need to invest.

It is a win-win situation for Godrej & Boyce and Godrej Properties.

Analysts say your debt equity ratio will go up from less than 1 to 1.3 after the joint venture with Jet to develop the Bandra Kurla Complex land and other new projects. Your comments.

According to the Sebi norms, all promoter shareholding has to come down to 75 per cent. At present, promoter stake in Godrej Properties stands at 83
per cent.
We will raise new equity for the company which will be used to reduce debt. After that, our debt to equity will come down significantly.
They also say your stock may not sustain premium valuations due to the slowdown in the property market? What do you think?


Well, I cannot comment on the stock movement.
Home sales have been on the decline in cities such as Mumbai and NCR because of various reasons. What has been your experience?


Our sales growth has been good. In the first quarter (of FY 2012), we saw 80 per cent growth in sales. We expect to continue to do the same in the coming quarters. During a single day in Navratri, we sold 15 apartments in a project in Vikhroli.
Both developers and analysts have predicted a 15 to 20 per cent drop in home prices if the festive season does not pick up as expected? What is your view?


I do not think prices can come down because costs are high. We have not seen any decline in prices so far.
What has been your strategy to boost sales when interest rates are high and inflation is pinching prospective home buyers?


We think there is a strong demand for housing. We are meeting it through strong supply. We have launched projects in Vikhroli and plan to launch two more in Chembur in Mumbai. We have finalised six projects and opened several projects for booking.