Brokerages expect Nifty50 firms to post 11.8% growth in net profit in Q1 but sales may decline

First, the good news. Buoyed by strong profit growth for pharma majors, private-sector banks and information-technology companies, India Inc could post a strong rebound in earnings growth during the first quarter of FY14.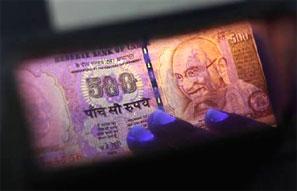 According to earnings estimates by various brokerages, in the June quarter, the combined net profit of the Nifty50 companies (excluding Coal India) could grow 11.8 per cent over that in the corresponding quarter last year.
This would signal a strong turnaround in India Inc's fortunes, considering that the same set of companies had reported 10.4 per cent earnings decline in the March quarter and 4.6 per cent drop in the June quarter of last year.

The analysis is based on the average earnings estimates of seven brokerages - Religare, Angel Broking, Bank of America-Merrill Lynch, IDFC Securities, Kotak Securities, Edelweiss and Morgan Stanley.

Now, some bad news. Revenue growth is likely to remain muted. Brokerages expect 0.4 per cent year-on-year decline in net sales of Nifty50 companies during the first quarter. This is in line with the recent trends of a progressive deceleration in India Inc's revenue growth, in line with the economic slowdown. This will also be the lowest revenue growth in the past 15 quarters.

"We do not see any signs of recovery in the first quarter. The slackening of demand is across the board - more pronounced in metals, cement, infrastructure and auto," said Prateek Parekh of Edelwiess Securities in a recent report.
According to him, the trend of improving Ebitda margins as seen in the past couple of quarters is likely to reverse, with margins expected to decline 77 basis points on a sequential basis for their coverage universe, excluding oil marketing companies.

Maruti Suzuki is expected to top the earnings chart with 38.5 per cent year-on-year net profit growth. Following it could be drug major Lupin (34.3 per cent), IndusInd Bank (33.8 per cent), Dr Reddy's Labs (32.6 per cent) and HDFC Bank (29.4 per cent).

Maruti's sales revenue is, however, expected to decline four per cent year-on-year. This would, of course, be more than made up by a reduction in import bill due to the depreciation in the Japanese yen.

Lupin and Dr Reddy's, on the other hand, might gain from a continued buoyancy in exports to the US and gains from the rupee's depreciation, while IndusInd and HDFC Bank are likely to perform well due to a continued momentum in retail loans.

Overall, 11 Nifty companies - from the pharma and IT sectors and private banks - are likely to report net profits of more than 20 per cent in the first quarter.
Another seven companies from sectors like FMCG and automobiles are likely to grow their profits 10-20 per cent. This list includes Reliance Industries, which straddles across many sectors. A majority of Nifty companies (31) are, however, likely to report lower-than-average earnings growth. In the quarter, 26 companies could report decline in their profits.

No wonder that Religare Capital Market's Tirthankar Patnaik expects downgrades to outnumber upgrades. "The Earnings Revision Indicator (ERI) has been trending down over the past few months and remains in the negative territory, implying more downgrades than upgrades," he wrote in his recent report. Commodity companies, including metals, cement and mining firms, besides oil marketing companies are likely to top the list of laggards.

These could be followed by capital goods makers, public-sector banks and automobiles. BPCL is expected to be at the bottom of the chart, with 83 per cent year-on-year decline in net profit, followed by Tata Steel (-80 per cent) and Sesa Goa (-65.4 per cent). But, given the declining share of laggards in Nifty in the past few quarters, their decline will be more than compensated by outperforming sectors.

"Earnings de-growth in auto, power and metals will be offset by relatively strong growth in financials, consumer goods and pharmaceuticals," said IDFC Securities in its recent report.