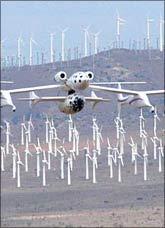 If a NASA-based competition is anything to go by, then private firms seem all eager to conceptualize flights to the Moon.
According to a report in Discovery News, the first $1 million prize for demonstrating a lunar landing system is due to be awarded at the end of October.
The front-runner is Texas-based Armadillo Aerospace, which this month made back-to-back flights of a vehicle named Scorpius.
Two other contenders plan to enter the NASA-backed competition before this year's cut-off on October 31.
Contestants for the top prize are judged by how long their vehicles fly and how accurately they land on pads 60 meters apart, one of which is built on rock-strewn, pitted terrain intended to resemble the lunar surface.
The Northrop Grumman Lunar Lander Challenge, with prizes totalling $2 million, is just the opening salvo to a second, richer competition to actually land on the moon.
So far, 20 teams have registered to compete in the $30 million Google Lunar X Prize, a competition based on the successful 2004 Ansari X Prize for the first private manned spaceflights.
Burt Rutan's SpaceShipOne won that $10 million purse and a contract to build suborbital spaceships for a commercial venture by Richard Branson's Virgin Group.
"We feel it's absolutely within the capacity of private industry to land on the moon," said William Pomerantz, who oversees the lunar space competitions for the California-base X Prize Foundation.
The contests have drawn talent from both established aerospace veterans and newcomers with a history of running successful businesses, a mix that commercial space advocates hope will result in less expensive, more efficient ways to explore and exploit space.
The prizes are intended to seed an industry that could be worth between $1 billion and $1.5 billion during the next decade, according to a July 2009 report by Bethesda, Maryland-based Futron Corp.
The firm identified six markets for commercial lunar services in the next decade including: sale of hardware to governments; services for government customers; products for commercial industries; entertainment; sponsorships; and technology sales and licensing.
"If one or more teams are able to win this prize competition, they will be able to serve markets potentially far larger than the prize purse," said Futron analyst Jeff Foust.