The power sector had a bright future, but the challenges were daunting, said Ratan Tata, chairman, Tata Sons, at his last annual general meeting of Tata Power.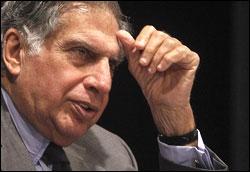 "It is a business with terrific future and we will grow this business in India and outside. The challenges are also daunting. The challenges are not for the private sector alone, but they also have to do with the government and infrastructure. We hope these issues will be addressed," said Tata.
He said land acquisition and coal block auctions, and water were challenges impeding the growth of the sector. "The price of coal had doubled in the last year and will increase the cost of power generation. Availability of energy at affordable rates will be an area of challenge," he said.
Tata also addressed queries on the Rs 1,800 crore (Rs 18 billion) impairment charge the company took on its ultra mega power project at Mundra in Gujarat, last quarter.  
"We have discussed it with the state regulator and and making it across that it is because of matters beyond our control, escalation should be treated as force majeure," he said. After Indonesia changed regulations regarding coal exports, the company, which owns stake in assets there, saw an unexpected increase in costs for the imported coal-based 4,000 megawatt (Mw) Mundra project.
Anil Sardana, the company's managing director said they had filed a petition with the Central Electricity Regulatory Commission (CERC), asking it to allow the firm to pass on the increased cost to buyers. "I hope for a landmark judgment from CERC. Otherwise, we as a country, cannot have imported coal," he said.
While these issues are yet to be decided, he said the company might commission the rest of the three units of Mundra ahead of schedule. "We were supposed to commission them in 2013-14," Sardana said.
The company on Firday launched and completed an offering of 60-year debentures of Rs 1,500 crore (RS 15 billion). "They were oversubscribed by noon," said Sardana.
Tata Power has already arranged for funding that would push its current capacity from 6,100 Mw to 10,500 Mw. It also has a line of sight for two more projects to increase its capacity by around 3,000 Mw, but is waiting for clarity on coal blocks to go ahead with them.
In the future, however, Sardana feels import duty on power equipment might hamper international finance from Exim Banks and other foreign banks which lend when Indian companies buy equipment from abroad.
"Domestic manufacturers also might increase prices. Theoretically, there is a chance of 21 per cent increase in prices. These will reflect in consumer prices," said Sardana.