After its various corrections since Diwali, the stock market is expected to settle and consolidate in the next few days, with most uncertainties thought to have been priced in.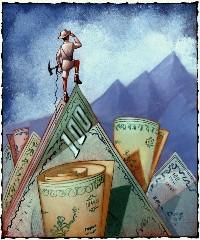 That applies to the telecom scam-related implications, too, as long as its toll does not go beyond ministers and no more bad news comes from European countries. Most players believe there are several good stocks at attractive valuations.

There was a turning over after the US Fed's second dose of pumping of liquidity. Soon after, there were fears of China raising interest rates, as inflation was rising.

Then, the European countries' debt crisis re-emerged, leading to all-out selling in markets across the globe and in all asset classes.

Before that settled in India, the housing loan bribery scam was unearthed, resulting in arrests of senior housing financiers.

A selloff began, with players fearing what would come next; it proved true, with the Securities and Exchange Board of India investigating insider trading, valuation of assets of realty companies and so on.

Still, says Vallabh Bhansali, chairman of the ENAM group said, "Uncertainties in the market are settling down and becoming healthy. The bottom, however, cannot be predicted."

Post Diwali, the Sensex lost 8.89 per cent and realty, public sector, small-mid cap and metal stocks corrected by 12-26 per cent.

Foreign investors have turned net sellers in the past two weeks; in the secondary market, their selling totalled Rs 4,310 crore in the past 12 trading sessions.

An indication for upcoming correction was first seen in the BofA Merrill Lynch Survey of fund managers for November. It had said a correction could be nearing, as fund managers' cash positions were at a seven-year low and there were concerns on rising inflationary pressures.

Now, the "bottom formation in the Indian market is going on, as most uncertainties are being priced in. Barring big political fallout locally and a worsening debt crisis globally, most other factors like valuations, earnings and market-leveraged positions have turned favourable," said Nilesh Shah, deputy managing director of ICICI AMC.

Motilal Oswal, CMD, Motilal Oswal Financial Services, said, "Now is the time to buy and several stocks are available at attractive prices. However, one should bear in mind that the market has potential to test tone's patience, even if having purchased the right stocks."