The Odisha government has decided to resume the land acquisition process for South African steelmaker Posco's project, which was stalled indefinitely in June last year following protests by villagers and Left leaders.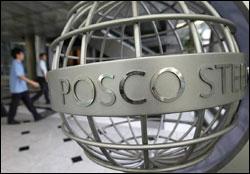 The decision was taken in a meeting convened by Chief Secretary B K Patnaik on 16 August, where officials of the Central Revenue Division Commissioner, Posco-India, Jagatsinghpur district administration and Industrial Infrastructure Development Corporation of Odisha (Idco) were present.
Of the 4,004 acres required for Posco's 12-million-tonne (mt) steel plant, the government has so far acquired 2,000 acres. The company has made it clear it could start work on the first two phases, with a combined capacity of 80 mt, if it was provided 2,700 acres.
In this backdrop, the government plans to acquire another 700 acres to facilitate start work on the project.
"The government has decided to start the land acquisition work, but has not given us any deadline. I think we will be able to start acquisition in 15 days after the preparation of necessary documents and other formalities," a senior official in the Jagatsinghpur district administration said.
Posco officials, though acknowledged the meeting, said they had no information on resumption of land acquisition.
"I am told the chief secretary had a meeting about the (Posco steel plant) project, but I am not aware of the content of the meeting," said Ho Chan Ryu, deputy managing director of Posco-India.
Meanwhile, the state steel and mines department has decided not to acquire any private land for the project following the direction from the high court, thereby downsizing original land requirement by 437 acres.
The project work has got trapped in a quagmire of delays since June 2011, due to violent local protests during the construction of approach road to the site. Non-renewal of the memorandum of understanding with the company which has expired in June 2010 and suspension of the environmental clearance granted to the project by National Green Tribunal also hit the project.
The fate of the project, dubbed as the biggest foreign direct investment in the country, was further pushed into uncertainty earlier this year, when the state government did not let Posco officials enter the plant site by revoking the Foreigners' Act, 1946, and the Foreigners (report to the police) order, 1971, prompting Posco-India officials to say the state government was not interested in the project.
The state government then alleged that Posco-India was not carrying out any welfare activities in the area, thereby, inviting the anger of the displaced people.
The stand-off between the steel major and the state government cooled down after Prime Minister Manmohan Singh instructed the Naveen Patnaik government to handover the required land after his promise to the Korean government in March this year about the implementation of the project.