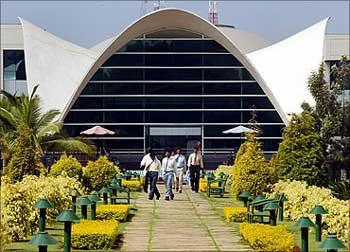 Prime Manmohan Singh on Thursday sought Chinese investments in manufacturing and infrastructure sectors in India and called for market access in China for Indian IT and Pharmaceutical firms.
"There are enormous opportunities for our two countries to work together. China has developed enormous capability in its infrastructure, therefore can help India in developing infrastructure," Singh, who received a rousing reception at the ChineseCommunistPartyCentralSchool, said while responding to a question.
"China has enormous capacities in manufacturing. India has also developed enormous capacities in Information Technology. These can form another basis our two countries can work together," he said at the interactive session presided over by Chinese Foreign Minister Wang Yi.
Singh said India is currently exploring opportunities to encourage Chinese investments in India in the manufacturing sector and exploring the possibility to establish Chinese industrial parks in India.
"In the same way, I hope China will provide opportunity for Indian IT and Pharmaceutical companies to find more hospitable environment to do business in China," he said. Singh also called for bilateral cooperation in energy and food security areas.
"Both the countries need to get secure supplies of energy and more efficient use of energy. This is another area where India and China can work together to ensure energy security," he said.
"Food security is yet another area where our two countries can work together to strengthen the capacity of each country to meet the challenge of food security," he said. Singh also noted that both the countries can work together to promote joint research in agriculture and related activities.
"We can once again work together on climate change to ensure that path of development we chose is the sustainable path," he said. Singh was one of rare foreign dignitaries to speak and interact at the Party school which produced almost all the top leaders of China in recent years.
The school was headed by President Xi Jinping till early this year before he took over power. The delegates at the school were mostly the middle-rung officials of the Party working in various capacities at the centre and provinces.
Welcoming Singh, Executive Vice-President of Central Party School He Yiting described the Indian Prime Minister as a world leader and top economist and father of economic reforms in India leading to the success of India.
Asked about future challenges faced by India-China, the need for two countries to cooperate and his expectations to cope up with those challenges, Singh said it is most important for both the countries to maintain peace and tranquility at the borders.
"While we work simultaneously to resolve the border it is very important that peace and tranquility should be maintained on our borders. Managing differences is going to be important contributory factor to the development of relations between our two countries and also realising vast development potential that existed between our two countries," he said.
Answering another question on the path of development both in India and China, commonalities and differences, Singh said there are large number of similarities in the development process the two countries followed and should follow.
At the same time there are instances where China advanced much more, it need not necessarily go through the route taken by India or for that matter India should go where China is going, he said.
Both countries need industrialisation to create job opportunities for our expanding population, the Prime Minister said. "For that we need lot more emphasis on skilled development. There we can learn a great deal from each other," he said.
"Similarly we can also work together to create an environment of peace and stability of our neighbourhood. Terrorism, extremism are great threats to peace and stability in our neighbourhood," Singh said.
"China and India can work together to make Asia and the world a secure and safe for orderly development in various field. These are some of the area where I feel we can work together," he added.