Prime Minister Manmohan Singh on Wednesday pledged to assist Africa through infrastructure development and institution-building and said BRICs group of emerging powers could help transformation of the continent through initiatives like development bank.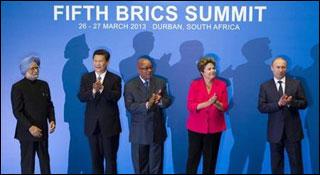 Addressing the BRICS Leaders-Africa Dialogue here, Prime Minister Manmohan Singh said India's engagement with Africa has come a long way and "today we have built a new template for partnership in the form of India-Africa Forum Summit. Singh said India will assist Africa in charting its own course through institution-building, infrastructure development and technical and vocational skill development.
Pointing out that pan-Africa e-Network for tele-medicine and tele-education, which is functional in 47 countries in Africa, is a "major success story of our institution-building partnership with Africa", he said India is ready to work with our African partners on e-governance to help bridge the digital divide in Africa.
He also offered India's experiences of participative political institutions, local governance, media and civil society with Africa.
Singh said human resource development and capacity-building assistance "are at the core of India's cooperation with Africa because they enable and empower people to take charge of their own future."
Over 15,000 African students are studying in India Indian assistance with vocational and entrepreneurial skill development, with particular emphasis on small and medium enterprises, is helping promote employability and job creation in Africa.
The prime minister said India is reviewing the terms and conditions of its lines of credit so that they meet the budgetary requirements of African countries and are in line with their own development priorities, utilise local resources and skills and create sustainable revenue-generating assets.
He said while India was determined to assist Africa with "the entire spectrum of our expertise and capacity", the BRICS forum "offers another avenue for our cooperation and initiatives such as the BRICS bank could further leverage the collective capacity of the BRICS countries to assist the transformation of Africa."
Image: (L-R) Prime Minister Manmohan Singh, Chinese President Xi Jinping, South African President Jacob Zuma, Brazilian President Dilma Rousseff and Russian President Vladimir Putin applaud at a family photo session during the fifth BRICS Summit in Durban, March 27, 2013. | Photograph: Rogan Ward