With food inflation emerging as a major source of concern for the already beleaguered UPA government in the forthcoming elections, Prime Minister Manmohan Singh has cranked up the official machinery to track inflationary trends and initiate corrective measures whenever required.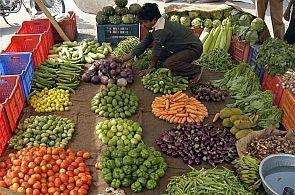 Consequently, Cabinet secretary Ajit Seth held a marathon session with the secretaries in the agriculture, food, commerce and finance ministries on Friday to review the impact of inflation on essential commodities.

The meeting took a close hard look at the figures, which clearly suggest that overall food inflation still remains high though there is some optimism that the situation will stabilise by August-end or September thanks to a reasonably good monsoon.

Meanwhile, state governments have been instructed to improve coordination of the distribution of vegetables and other perishable items to offset the spike in prices.

The UPA government has reason to worry on the price front as official figures show that inflation alone went up from 4 per cent to 13 per cent last year with the situation showing no signs of improvement this year.

While the increase in prices of vegetables is said to be seasonal, the government is particularly concerned about the increasing prices of pulses as India is the biggest importer of dals. It had imported 4 million tonnes last year. But the Centre got some respite when it was informed that the channa dal and yellow peas were not rising.

The high-level review meeting also drew solace from the feedback it received that onion prices, which is responsible for the present rise in vegetable rates, will come down in a month's
time because of early rains in Maharashtra.
It was also a relief to hear that decontrolling sugar had ensured better availability as a result of which prices remained stable.
Similarly, the Centre believes that because of improved production and better procurement, prices of rice and wheat will not spiral out of control though they are on the high side as there has been an 18 per cent increase in the MSP given to farmers.
"This has to reflect in the prices," remarked a senior government official. However, he was emphatic that there was no need to push the panic button on the availability front as the country's wheat and rice stocks were more than satisfactory.
In fact, India had exported 5.33 million tonnes of wheat last year and was the largest exporter of rice (156 metric million tonnes) in the current financial year.
Again, there has been a 8 per cent increase in the prices of edible oils, which is largely imported. Here again, the government is hoping that the good crop of palm oil in Malaysia will help ease matters back home.
Government sources said that the Cabinet secretary will be holding such review meetings periodically as high food inflation has been flagged as a priority issue by the UPA government.
This poses a special challenge to the Prime Minister who is already battling an economic downturn, which has been reflected in the weakening of the rupee and a slide in manufacturing and industrial output.
Known as a reputed economist who ushered in economic liberalisation, Manmohan Singh has to put his best foot forward as he has a reputation to protect.