New Irda rules open the way, with 5 entities getting okay to set up as repositories; firms preparing structures for switch

Insurance companies are preparing to issue e-insurance policies in the near future, in a move towards a more paper-free environment.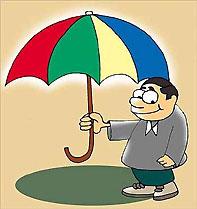 The Insurance Regulatory and Development Authority has recently said insurers can enter into agreements with one or more repositories. An insurance repository would provide a facility to keep insurance policies in electronic form and to undertake changes or revisions speedily. Policyholders could opt to digitise their policy or have it in the existing format.
Irda has granted in-principle approval to five entities for entering the insurance repository business. These five have yet to launch operations. A senior official with one of these said, "We would launch operations within the next few months."

Rajesh Relan, managing director and country manager, PNB MetLife India, said: "The guidelines on digital insurance repository and e-issuance of policies have been further streamlined through the clarifications issued recently. At PNB MetLife, we are already maintaining a digital database of all insurance policies and have also migrated to the use of Mudrank (digital stamp instead of paper ones)."

Irda rules say to become an insurance repository, an applicant should be a public limited company with a minimum share capital of Rs 5 lakh. The net worth of the applicant, on grant of an in-principle approval by the Authority, should be at least Rs 25 crore before issuance of certificate of registration to it.

These repositories would have to maintain records of e-insurance accounts with a unique number, records of e-insurance policies issued and records of e-insurance policies reconverted into physical form, an index of policyholders and their nominees/assignees/beneficiaries in respective life insurance policies, among others.
And, maintain a history of claim data. Each repository would have to preserve records for a minimum of 10 years from the date of termination or assignment of insurance. They also must have provision to safeguard privacy of data. All individual life insurance policies, including those issued to groups and all general insurance policies held by individuals, including group policies, are eligible to be held in electronic form.

Insurers, meanwhile, are enabling processes to get the system going. Relan added they'd the capability to issue policies digitally and were working with certified vendors to provide this option to customers at the earliest.

Sanjay Tripathy, senior executive vice-president, HDFC Life, said this would lead to real-time access to insurance policies. The company is, he said, building the back-end system and is gearing up to launch this once the regulator gives a go-ahead.

"One would be able to retain all policies in electronic form and can undertake modifications with speed and accuracy. Once a customer has an account with a repository, he/she would be able to purchase subsequent policies from any insurer without the hassle of submitting KYC (know-your-customer) documents (address, identity proof, etc) again. The electronic format would also enable quick retrieval of policies, leading to faster claim processing," he said.