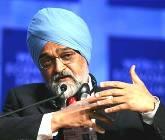 The plan expenditure of the Bihar government led by Nitish Kumar has registered a steady rise with aaccelerated growth but the per capita development expenditure was the lowest among all states during the 11th five year plan.
"Despite significantly better plan efforts, per capital development expenditure of Bihar is the lowest among all states," the state government told the deputy chairman of the Planning Commission, Montek Singh Ahluwalia, in a draft presentation in Patna on Wednesday.
Against the all-state average of Rs 3,049 per capita development expenditure, Bihar registered Rs 1,446 during 2005-06. Similarly agaisnt all-state average of Rs 3,826 and Rs 4,208, Bihar recorded per capita development expenditure of Rs 2,123 and Rs 2,184 during 2006-07 and 2007-08 respectively.
Officials said the target of annual growth rate was 8.5 per cent and investment proposed during the period was Rs 78,481 crore or Rs 784.81 billion (public) and Rs 1,08,283 crore or Rs 1,082.83 billion (private).
The government pointed out that against the projection of Rs 10,200 crore (Rs 102 billion) annual outlay during 2007-08, actual outlay was Rs 10,202 crore (Rs 102.02 billion) which mounted to Rs 13,500 crore (Rs 135 billion) during 2008-09 and Rs 16,000 crore (Rs 160 billion) in 2009-10.
The state's annual plan size during 2009-10 was Rs 19,425.85 crore (Rs 194.25 billion) with the state plan expenditure being pegged at Rs 16,000 crore (Rs 160 billion) and sectoral allocations were Rs 4,212.08 crore (Rs 42.12 billion) for infrastructure, Rs 6,066.31 crore (Rs 60.66 billion) for social sector, Rs 5,721.61 crore (Rs 57.21 billion) for others, the officials said.
Showing the expenditure up to October 2009, the government said there had been an overall expenditure of Rs 5,376 crore (Rs 53.76 billion) during the period under review against the plan of Rs 16,000 crore (Rs 160 billion).
In the field of primary education, the state government under its promise for ensuring education for all started CM integrated School Development Scheme. Under the scheme 18,475 schools were opened, 10,727 upgraded, 72,025 additional class rooms constructed and 212,290 teachers appointed.
The student teacher ratio improved to 53:1 till March 2009 against 63:1 in 2004 and the number of school children dropped decreased from 2.5 million in 2004 to one million in March 2009.
All secondary schools upgraded to 10 plus two, 11,500 teachers were appointed and new institutions like Chanakya  National Law University, Chandragupt Institute of Management, Patna, Indian Institute of Technology, Patna were set up and Aryabhatt Professional University and one degree college in each sub-division was on the anvil.
The state government in its report to Ahluwalia said the BPL population in Bihar stood at 1.98 crore (Rs 19.8 million), but the allocations for foodgrains and kerosene being arranged only for 72.95 lakh (7.29 million) people only and there was urgent need to make allocations based on actual BPL survey.
The government suggested raising the cost of Indira Awas Yojona unit to Rs 50,000 for normal areas and Rs 85,000 for flood and earthquake prone areas.
"We are also implementing four year roadmap for agriculture at a cost of Rs 6,000 crore (Rs 60 billion) and working to boost rice, wheat and maize productivity, besides expanding the area under pulses, oilseeds, fruits, vegetables, seed multiplication and replacement programme," the chief minister, who came to power in 2005, said.
He also said that his government worked for inclusive growth and provided 50 per cent reservation for women in village panchayats, besides opening 80,000 ICDS centres.
It also ensured pension for widows, disabled, old and infirm and launched girl child protection scheme, food coupons and residential schools for scheduled castes and scheduled tribes and other backward class students.
The state government in its report said after division of Bihar, a special plan was formulated for the state and Rs 8,297 crore (Rs 82.97 billion) were sanctioned for road, power, irrigation besides assiging work to central agencies for which Rs 1000 crore (Rs 10 billion) additional allocation was needed.
The state government emphasised on the need for stepping up annual allocation.
Besides, several steps have been taken for improving healthcare system with appointment of 1,757 doctors, 10,618 nurses, 477 health managers and 69000 ASHAS with thrust on capacity expansion of hospitals, opening new PHCs and sub centres and introducing institutional delivery system.
"We are making a headway in improvement of infrastrructure with much focus on road and power sectors," officials told Ahluwalia during the meeting at secretariat in Patna.
Asked about the state's demand for special package for floods, the deputy chairman said he would discuss the issue after returning to Delhi.
"Long term measure for flood protection is being discussed at the Planning Commission which has just created a national mission," he added.
Kumar said the Planning Commission had recommended doubling the allocation of funds under the Shram Vikas Yojana from Rs 1,000 crore (Rs 10 billion) to Rs 2,000 crore (Rs 20 billion) this year and approved the proposals for funds for revival and modernisation of the Barauni and Kanti thermal power plants.
In reply to a question on the plan size for the state, Kumar said "we have to increase the plan outlay for which we made a request to Ahluwalia."
He said the Planning Commission's help has also been sought following the indications of reduction in the state's share in central taxes in 2009-10.
A wide ranging issues, including plan expenditure to work going on in other sectors came up during the meeting, Kumar said. Special problems relating to floods, power, education, hospitals, lack of doctors, use of water and coal linkages for projects were also discussed, he added.
Image: Montek Singh Ahluwalia