The pension reforms Bill is likely be passed with the Bharatiya Janata Party (BJP) deciding to support it in the parliamentary standing committee. The Bill has been pending since 2005. Its revised version was tabled in the Budget session of Parliament this year.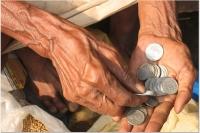 The crucial reform will give statutory powers to the interim pension regulator, the Pension Fund and Regulatory Authority (PFRDA), to form rules regarding pension funds to provide old age income security to the people. At present, PFRDA just makes rules regarding the new pension system (NPS).

BJP sources said the Bill, currently before the standing committee, would be cleared in a couple of sittings. The committee members will meet finance ministry officials tomorrow in this regard.

"We are meeting senior officials of the finance ministry tomorrow for a threadbare discussion on the issue, so that the hearing on the PFRDA Bill can be completed in two sittings. If possible, we would like to present the Bill in the monsoon session of Parliament," said a senior member of the committee who is part of the decision-making process.

BJP had helped the government when
the Bill was introduced in Parliament in the Budget session in March.
It is voted in favour of the Bill when the ruling United Progressive Alliance (UPA) members were not present in the Lok Sabha because the government overlooked the need to issue a whip. Initially, there was no quorum either.
The move to take up the Bill comes after Finance Minister Pranab Mukherjee requested the chairperson of the standing committee on finance, Yashwant Sinha, to clear it at the earliest because the idea of pension reforms was conceived during the National Democratic Alliance regime.
The UPA government first took up the Bill in 2005. It was then referred to the standing committee. In 2009, Parliament was dissolved and the Bill lapsed.
The interim watchdog was set up in October 2003 through an executive order. The Bill is overdue as the New Pension System (the Bill seeks to rename it National Pension System) is already operational.
NPS, unlike the old pension system, does not have defined benefits and gives subscribers an option to invest a part of their money in the markets.
The Bill's revised version has some changes. It keeps the option of specifying foreign investment in pension funds outside the purview of the proposed law.