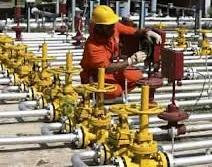 State-run Oil and Natural Gas Corporation's bid to sell stake in its deep water and ultra deep water blocks to US-based ConocoPhillips and Shell Corporation has hit a ministry of defence block.

The company has been in talks with ConocoPhillips and Shell for some time. It now says the MoD's stringent norms on exploration in 'no-go' areas is posing a big challenge in taking the deal forward.

"We are desperately looking for technology partners but the way things work, no international player would want to put in money.

"While ConocoPhillips is keen on a deal, the specifications of MoD on pursuing exploration in deep water blocks are creating a problem," said a senior ONGC executive, on condition of anonymity.

ONGC began talks with ConocoPhillips last year and was hopeful of finalising the deal during the first half
of this year.
It holds 19 offshore blocks across the Mahanadi, Cauvery and Krishna-Godavari basins and the Andaman & Nicobar Islands.
ONGC has been seeking partners rich in experience and technology for its deep water blocks.
Last year, it farmed out a 26 per cent stake in exploration block KG-DWN-2004/6 to Japanese explorer Inpex.
"There is no point selling stake for the sake of it. Later, we would be running from pillar to post, seeking clearances from all authorities involved.
"Despite the fact that we need experienced international players to help us in exploration, the government refuses to give a clear indication of its policies," the official added.
Nearly 40 blocks, including Reliance Industries' Krishna-Godavari basin KG-D6 block and the gas discovery area of NEC-25 in the north-east coast region, were declared 'no-go' zones by the MoD, as they were either close to a proposed naval base or to a missile launching area.