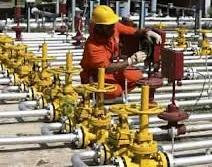 To arrest the declining production from the Panna field, state-run Oil and Natural Gas Corporation and its consortium partners -- Reliance Industries and BG Exploration and Production India -- are jointly investing Rs 950 crore (Rs 9.5 billion) to drill more wells.

BG Exploration and Production India, a part of UK-based BG group and Reliance Industries, hold 30 per cent stake each in the field, while ONGC has a participating interest of 40 per cent.

The consortium plans to drill 11 wells in total by the end of this year, said a senior ONGC official.

"While two wells have been drilled, drilling is on for another two.

A total of 11 wells drilled by December 2013 would result in an output of over 8,500-9,000 barrels of oil per day."

Panna comprises 430 square km of area, located 50 km east of the giant Bombay High field of the Mumbai city.

A similar drilling programme is being envisaged for the Mukta and Tapti fields, too.

The Mukta field comprises 777 sq km, located 100 km northwest of the Mumbai city.

Tapti field covering an area of 1,471 sq km lies 160
km north west of the Mumbai city.
Production from the PMT fields, as they are known, has been steadily declining as the fields are ageing.
During the first quarter of this financial year, Panna-Mukta produced 1.8 million barrels of crude oil and 16.9 billion cubic feet (bcf) of natural gas in the first quarter -- a drop of 19 per cent in case of crude oil and five per cent in case of natural gas on a year-on-year basis.
"The decrease in oil production was due to shut-down of Panna-Mukta for three days for SBM maintenance, re-certification work and natural decline," RIL said in its earnings statement.
Tapti, on the other hand, produced 0.07 million barrels of condensate and 7.8 bcf of natural gas during the first quarter -- a decline of 53 per cent and 43 per cent, respectively.
"The decrease was due to a natural decline," said RIL.
The drop in production from PMT is also impacted trading volumes for GAIL India during the first quarter of FY14. GAIL transported 99 million standard cubic metres per day (mscmd) of gas during April-June, down from 110 mscmd a year ago.
Trading volumes fell after the BG Group-operated PMT fields saw production drop from 10.3 mscmd to 6.9 mscmd.