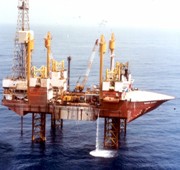 The government headhunters PESB will hold interviews to select the next chairman and managing director of Oil and Natural Gas Corporation on October 19.
Public Enterprise Selection Board will interview Ravi Narayan Bastia, the man who discovered India's biggest gas field, and nine others who have applied for the top job for the at ONGC, on October 19, official sources said.
Bastia, who quit ONGC in 1996 to join Reliance Industries, is credited with discovering the Dhirubhai-1 gas field at the Krishna Godavari basin deep-sea block D6 in 2002. It was ranked as the biggest gas find in the world that year.
A senior vice-president heading exploration operations at the Mukesh Ambani-run company, he is also credited with RIL's Mahanadi Basin gas finds.
He was awarded the Padma Sree, the nation's highest civilian honour, in 2007. Bastia is making a homecoming and has applied for the post of chairman and managing director, ONGC, sources said.
The current incumbent, R S Sharma, retires on January 31, 2011, on attaining the super-annuation age of 60 years.
Sources said that the others in the fray include Sudhir Vasudeva, director (offshore), ONGC; D K Saraf, director (finance), ONGC; and R S Butola, managing director, ONGC Videsh Ltd.
Acting oil regulator S K Srivastava and OIL director (exploration) B N Talukdar had also applied at the close of application on May 6.
Incidentally, PESB will hold interviews to select the new chairman of Indian Oil Corporation on September 29. Butola and Bharat Petroleum Corporation director (refineries) R K Singh are among the 17 candidates in the fray for the top job at the nation's largest oil firm.
S K Srivastava, Oil India director (finance) T K Ananth Kumar, Hindustan Petroleum Corporation director (Finance) B Mukherjee and Mangalore Refinery and Petrochemical managing director U K Basu are the other applicants for top job at IOC, they said.
The vacancy for IOC chairman arose after the government declined an extension of service to Sarthak Behuria till his superannuation age of 60 in 2012.
Behuria completed his five-year term in February end and is eligible to be extended as Chairman till early 2012 but the government refused him the option.
B M Bansal, director (business development) and senior most director was appointed acting chairman till a permanent candidate is located.
PSEB is to hold interviews to select chairman and managing director for BPCL on September 28 where R K Singh is touted as the favourite, sources said adding BPCL top post fell vacant last month when Ashok Sinha quit the job on getting indications that his services too would not be extended.