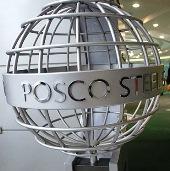 After conducting land acquisition for the proposed steel plant by Korean company Posco in areas dominated by supporters of the project, the Jagatsinghpur district administration is all set to enter the anti-Posco stronghold in the project site.

The administration has made elaborate police arrangement to conduct land acquisition at the trouble-torn Gobindpur village from Tuesday even as the anti-Posco activists have formed a human chain on the outskirts of Gobindpur village to prevent the entry of officials.

However, some villagers of Gobindpur, known to be the project's supporters, have assured their cooperation to the exercise.

In a meeting with officials at the Erasama block on Friday, they volunteered to pull down their betel vines on government land and hand over land, including trees, to the administration despite a warning from the Posco Pratirodh Sangram Samiti.

District Collector Narayan Chandra Jena, project director (rehabilitation and resettlement), Surjeet Das, Special Land Acquisition Officer Nrusingh Swain and Block Development Officer Murlidhar Swain were present in this meeting.

Sources said land acquisition would be taken up from the pro-Posco zone of Gobindpur village on Tuesday where little
resistance was expected.
But as the acquisition process moves to other areas of the village, the administration may use force if the protestors create any trouble.
Hoping that land acquisition at Gobindpur would be trouble free, the special land acquisition officer said the administration has pressed its officials and machines to expedite sand leveling work at Gadakujang and Nuagaon panchayats where the process is likely to be completed within one to two days".
After sand leveling, construction of boundary wall will be started within one week from Gadkujang, he added.
On the other hand, police has made elaborate arrangement to conduct the exercise peacefully.
DIG (central range) D S Kuttey visited Nuagaon and Gadakujang panchyats and interacted with Superintendent of Police S Debdatta Singh to chalk out strategies for the purpose.
PPSS general secretary and former sarpanch of Dhinkia, Sishir Mohapatra said: "Human barricade, formed on the outskirts of Gobindpur, is keeping watch round the clock to prevent the entry of officials.
"Women and children will be placed in the front line to oppose forcible land acquisition, he added.
Sources said PPSS activists had been training women and children to face police action and act as a shield during 'forcible' land acquisition.