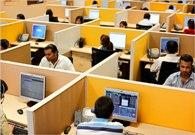 Life insurers SBI Life and Birla Sun Life, and brokerages such as Motilal Oswal and India Infoline have together either bought or taken on lease around 500,000 sq ft of office space in Mumbai in the past four months.
IT majors Wipro, TCS and L&T Infotech have taken a similar amount of space on lease in Navi Mumbai in the past two months.
According to sources, global investor Morgan Stanley has just closed a deal to take 100,000 sq ft at a large building in Lower Parel in Mumbai and another IT services firm is working on booking a million sq ft of space at Airoli in Navi Mumbai.
A look at the top five office deals in Bangalore reveals that nearly a million sq ft office space have been taken up in the last quarter, by IBM and Mercedes, among others.

Call it a revival of the information technology (IT) industry or increase in demand from non-IT sectors, office lease and sale transactions have picked up by 10 to 15 per cent in the past quarter.

"We have got at least 30-40 enquiries in the last two months and are seeing good conversion rates. So far, IT was not picking up; now, that has also revived," says Niranjan Hiranandani, managing director of Hiranandani Constructions, one of the largest privately held realty companies.

IT and ITeS (IT-enabled services) contribute 65 per cent of demand for office properties. "There is a demand for across-the-board properties, from 2,500 sq ft to 50,000 sq ft," Hiranandani adds. According to Anshuman Magazine, chairman and managing director, CB Richard Ellis, South Asia, an international property consultant, office property transactions have picked up in Mumbai and Delhi, followed by Bangalore and Hyderabad.

While multinationals such as Morgan Stanley and Mercedes are leasing properties, domestic firms are buying these, given the relatively lower prices. For instance, last week, Edelweiss Broking bought over 200,000 sq ft space at the Lotus Midtown building at Kalina in the Santa Cruz area of Mumbai, for Rs 407 crore. Prior to that, Mumbai saw one of the biggest deals in office markets, with Axis Bank buying a four-storey building in the Bombay Dyeing Mill compound at Worli for Rs 640 crore.

According to property consultants, big companies like Videocon, HDFC and the Tata Group are looking for large office spaces in Mumbai and Delhi. "Since prices are down, domestic firms are buying now," says Ashok Kumar, managing director of Cresa Partners, an international realty services firm.

Companies are anticipating that prices will go up by five to 10 per cent in the next couple of quarters. Hence, they want to book properties now. Raja Seetharaman, national head, agency leasing, Jones Lang LaSalle Meghraj, says, "Between the third and fourth quarter of this year, when the supply will reduce and demand will pick up further, I feel prices will move 5-10 per cent," he says.

Rental outlook

Despite a pick-up in demand, rents are expected to remain flat in the next six quarters, given the kind of oversupply in cities like Mumbai and Delhi.

According to JLLM's Seetharaman, Mumbai has five to six million sq ft of Grade-A office space against the demand of four million sq ft. Around 3-3.5 million sq ft of fresh supply is expected to hit the market in the next two-three quarters.

"It will take 18 months to exhaust the current office supply. Developers are keen to lease properties at any cost today," says Kumar of Cresa Partners.

Property consultants say deals were happening at reasonable rates such as Rs 230-275 a sq ft at Mumbai's Nariman Point and the Bandra Kurla Complex. "Where developers are holding on to rates, deals are simply not happening," says Seetharaman.

In other cities, Cresa Partner's Kumar says deals are happening at the lower bracket - Rs 20-25 a sq ft in Bangalore, Rs 22 a sq ft in Chennai, Rs 35-40 in Navi Mumbai, Rs 75-80 in Goregaon-Malad, Rs 75-80 in Bhandup-Vikhroli in Mumbai. "Tenants do not want to go beyond a point," he says.

Why, then, are developers launching new projects amidst oversupply? Hiranandani has an answer: "Auto firms manufacture a car to sell it in four-five months. You have to build to sell when the market improves."

Office rents had fallen by up to 50 per cent in cities such as Mumbai, as companies and financial institutions postponed booking properties since the second half of 2008. As a result, rents in Nariman Point had come up to Rs 220-270 a sq ft from a peak of Rs 450-Rs 500 a sq ft during the peak of 2007-08.

What is interesting is that the office market, earlier considered a laggard due to oversupply and poor demand, has beaten the residential market, where home sales have dwindled by up to 30 per cent this year as prices hit the roof.