The battle between energy giants Coal India Ltd (CIL) and NTPC Ltd over the issue of fuel supply pacts does not seem to be nearing an end. The latter has put forth two new demands - concerning the acceptable quality of coal and losses during transport - under the new fuel supply agreements (FSAs). Though CIL has trashed these as "absolutely baseless", the new demands are set to derail the government's efforts to free huge investments stuck due to coal shortage.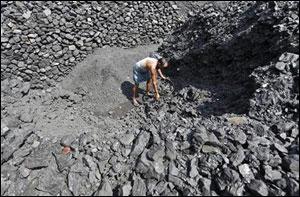 NTPC accounts for 13,000 Mw of the 60,000 Mw of new capacity to be commissioned between 2009 and 2015. An email sent to the company remained unanswered, but a spokesperson said discussions on the FSA issue were on. He added FSAs for 8,710-Mw NTPC plants that had come on stream since March 2009 were yet to be signed.
According to CIL, the power company has said it would not accept coal with gross calorific value (GCV) less than 3,100 kilocalorie per kg (kcal per kg), corresponding to low-quality F-grade coal. It wants the condition to be incorporated in the new FSAs. "We have communicated to them that the demand is not acceptable," a top CIL executive told Business Standard.
The coal miner is also miffed at the sudden surfacing of the demand, even as discussions on FSAs have been on for the past five months. "Also, some of our consumers are already saying they will not accept high-grade coal on pricing issues. Now, NTPC says it will not buy low-grade coal. Tomorrow, some others would refuse mid-quality coal. If consumers start cherry-picking, whom will we sell our coal to," he asked.
He added, if NTPC's stand was based on technical limitations of boiler design, CIL was willing to wash the low-grade coal and supply to NTPC. "But we would want a written undertaking that they will pay for the washed coal. Also, we want an enforceable commitment that if we invest Rs 400-500 crore (Rs 4-5 billion) in setting up a washery, the coal will be lifted by them." CIL's F-grade coal is priced at Rs 600-700 a tonne. Washing will raise the cost by at least 20 per cent.
Another demand from NTPC that has irked CIL is billing for quality of coal received at its end (power plant). CIL has rejected the demand, calling it "absolutely illogical". "Nobody can accept such a condition. How is a seller responsible for what happens to coal en-route? We can enforce any rigorous quality check, but only at the loading end. Once the coal is loaded and leaves CIL's premises, it is not our responsibility," the executive said. Currently, the Indian Railways takes the responsibility for any loss of quality and quantity during transport.
IMPASSE CONTINUES
NTPC raises new demands, while CIL is not willing to yield
NTPC refuses to buy low-grade coal; seeks provisions in new FSAs for billing on quality it receives at its end
CIL rejects new conditions, calling those "baseless"
The miner wants billing for quality at the time of loading at mines |CIL proposes it can supply low-grade coal after washing, but NTPC would have to commit to bear high cost