NCDEX Spot (NSpot) on Tuesday said that it has attained the number one position in electronic auctions of food crops.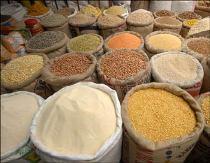 It is the only spot exchange with more than 95 per cent delivery ratio across the commodities and has facilitated more than 4,000-metric tonnes of food grains through its electronic auctions, a press release issued here said.
NSpot is the market leader in electronic trading of rape mustard seed, chana, sugar, tur and imported pulses. It is the leading spot exchange for agricultural commodities in all major states like Maharashtra, Rajasthan, Madhya Pradesh, Karnataka and Haryana, the release said.
NCDEX Spot Exchange's Head, Rajesh Sinha, said that "NCDEX has innovated on various fronts including technology, memberships and market types to provide direct access to physical market players on the spot exchange.
The effort has started paying." In Q1 FY11, NSpot has delivered more than 10,000 MT of various foodgrains through its trading platform.
In the non-agri segment, NSpot has established NCDEX Bullion Limited, along with leading bullion merchants like Ridhi Sidhi Bullion for establishing a vibrant bullion spot trading platform.