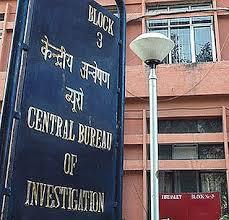 The Central Bureau of Investigation on Monday registered a criminal case against MCX (Multi Commodity Exchange) Stock Exchange; its promoter Jignesh Shah; senior Securities and Exchange Board of India officials S V Murlidhar Rao, Rajesh Dangeti and Vishaka More; and former Sebi executive director J N Gupta.

Though the agency did not include former Sebi chief CB Bhave and ex-member KM Abraham in the case, it recommended departmental action against the two.

Shah, the bourse and the Sebi officials were charged for alleged criminal conspiracy and violations under the Prevention of Corruption Act. Rao, Dangeti and More worked under J N Gupta, who was responsible for the market regulation department.

While Gupta has quit and floated a proxy advisory firm, Rao has been promoted as executive director.

More, a visually challenged officer, was often seen in the rooms of the Bombay High Court during the high-profile legal battle between Sebi and MCX-SX in 2010.

While Gupta declined to comment, other officials could not be immediately contacted.

Investigation into the case, which began in March, focused on the initial recognition of the bourse in 2008.

A CBI statement on Monday suggested the focus shifted to renewal of the recognition in 2009.

The agency said Shah and MCX-SX 'in connivance with Sebi officials, deliberately suppressed' certain buy-back agreements the promoters had entered into with a public sector bank.

"It has been alleged promoters of the stock exchange had entered into a buy-back arrangement with a nationalised bank, in violation of the Securities Contract Regulation Act, 1956, and the Securities Contract (Regulation) (Manner of Increasing and Maintaining Public Shareholdings in Recognised Stock Exchanges) Regulation, 2006," the statement said.

It added this fact was suppressed "while applying for extension of recognition of the stock exchange, to conduct trade in currency derivatives and fraudulently obtained the extension of recognition of the exchange in 2009
by cheating Sebi."
It was alleged the Sebi officials deliberately didn't issue a notice to the stock exchange for cancellation of its recognition in the currency derivatives segment, despite Sebi rejecting MCX-SX's request for permission to trade in other segments.
In 2010, Sebi had issued a show-cause notice to MCX-SX and, subsequently, declared it 'not fit and proper' to enter other segments such as equity and debt markets.
In 2008, MCX-SX was floated by the Jignesh Shah-promoted Financial Technologies and its arm Multi Commodity Exchange, as a platform offering currency derivatives trading.
Because of Sebi's legal framework, it was first launched as a stock exchange, which offered currency trades.
Initially, Sebi had given the bourse a year to comply with 'manner of increasing and maintaining public shareholding' in stock exchanges regulations.
According to these norms, the promoters had to reduce their stakes to five per cent.
However, MCX-SX sought and secured a year's extension, as it could not comply with the MIMPS norms. During the extension period, it placed shares with several public sector banks and financial institutions and then devised a court-approved capital reduction scheme to comply with the norms.
The scheme included the issue of convertible warrants that allowed the promoters to hold economic interest of about 78 per cent, despite the fact that their shareholding was five per cent each.
In a landmark order in 2010, Sebi member K M Abraham declared the promoters not fit and proper and refused them permission to trade in new segments.
The exchange challenged the order in a high court and, eventually, the matter was settled in its favour.
In February 2013, the bourse started equity trading.