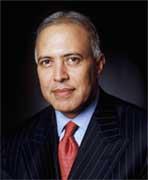 Two prominent Non-Resident Indians -- Arun Sarin and Lakshmi N Mittal -- figure among the 25 most powerful people in Business in Europe, a leading business magazine has said.
49-year-old Arun Sarin, Chief Executive Officer of Britain's Vodafone, the world's largest wireless company, is named as the seventh, while steel baron Lakshmi Mittal, chief of LNM, is listed as 15th among Europe's Power25 - the most powerful people in business, according to the latest issue of Forbes.
Vodafone last year generated $15 billion in free cash flow, although it recorded a net loss for the year of $15.3 billion, on revenue of $56.8 billion, the magazine said.
"CEO for just a year, Sarin spent the first part of his career in Silicon Valley at Airtouch, InfoSpace, and former Baby Bell Pacific Telesis Group. He is part of an Indian Diaspora that is rising to lead banks and tech companies in Europe and the US. But Sarin has the major challenge of bringing life to long-awaited 3G broadband service for mobile phones," the magazine said.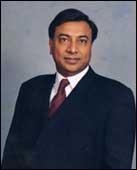 The 54-year-old Lakshmi Mittal is a truly global steel producer. He commands a $12 billion steel empire that stretches from a former state-owned steel mill in Kazakhstan through Europe and Africa to operations in the United States, Forbes said.
"LNM is now the world's second-largest steel manufacturer after Arcelor of Luxembourg, and Mittal is still hunting for more acquisitions. His indispensable work tool: a private jet that clocks 350,000 miles each year," it said.
56-year-old John Browne, CEO of Britain's BP, is at the top of the list.
"Not only does Browne run the world's largest oil company as measured by revenue, but he has also made BP into the second-largest company on the planet, after Wal-Mart," the magazine said.
And, from Russia's President Vladimir Putin to the UN Secretary General Kofi Annan, everyone seeks his opinion on matters of energy and environment.
Others figuring in the last include Daniel Vasella of Novartis from Switzerland (2), Thierry Desmarest of Total from France (3), Roman Abramovich of Sibneft from Russia (21), and Giorgio Armani of Armani from Italy (25).