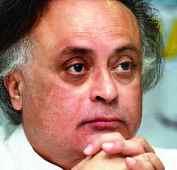 Union minister for rural development Jairam Ramesh on Monday refuted the charge that National Rural Employment Guarantee Act had caused labour shortage in sectors like agriculture and construction.

Ramesh said that there was a deliberate propaganda going on to discredit Nrega.

"The scheme has increased agricultural wages, reduced distressed migration in some parts of the country and created community assets particularly water conservation structures.

"Of course, there is room for improvement," the minister said.

Under Nrega, every adult member of a rural family is paid on an average Rs 120 per day for 100 days in a year.

Confederation of Real Estate Developers' Association of India had recently stated that real estate projects were experiencing time and cost overruns due to shortage of labour because of schemes like Nrega.

Besides, there were reports stating that
it was getting difficult to hire labour for agriculture.
"Many people are uncomfortable with increasing agricultural wages. What can you do. If you want to reduce poverty in the country, you will have to pay more.
"Only then, people will live comfortably," Ramesh told reporters on the sidelines of an international conference in Hyderabad.
He also ridiculed the reports that crop holiday announced in East Godavari district was due to Nrega and said the official reports suggested other reasons.
"Our report is entirely contrary. I had asked for a study to be made. A study has been made. Nrega has nothing to do with crop holiday.
"The crop holiday is because of various reasons like procurement price, fertiliser price, distribution of seed, irrigation issue, Ramesh explained.
Meanwhile responding to a query, rural development minister said the comptroller and auditor general would take up performance audit of Nrega in 12 states soon.
Image: Jairam Ramesh