PepsiCo CEO Indra Nooyi and hollywood director James Cameron have made it to the list of visionaries by Fortune as they are seen to lead their industries in the future.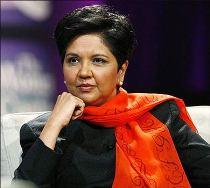 As many as eight leaders, who are being seen to lead their industries in the years ahead, have found a place in the list, the US-based Fortune magazine said about its inaugural list. Writing about food and beverage company's chief, the magazine said, "Nooyi has a profound effect on the rest of the industry. Her mantra is 'performance with a purpose' or making PepsiCo's overall food and drink portfolio healthy."
Apart from Nooyi and Cameron, FDIC Chairperson Sheila Bair, Duke Energy CEO Jim Rogers, Christoph Westphal of Sirtris Pharmaceuticals, online marketplace Amazon's chief Jeff Bezos, environmentalist Steven Chu and Andy Rubin of Google also figured in the list.
Besides, Cameron spotted a place in the list because of his vision to remake the entire movie-going experience with the use of 3D technologies in its latest sci-fi thriller 'Avatar'.
"Rather than use existing technology, the director co-developed a new generation of high-definition stereoscopic cameras," the report said. Bair, who is in-charge of managing the insurance fund for the America's roughly 8,000-plus banks also cornered a place.
"She took a typically sleepy position and made it central, anticipating the credit meltdown and lobbying for legislation to stop foreclosures," Fortune said. Interestingly, the list has people from various industries including, consumer goods, entertainment, environment, telecom and pharma.