Nokia has unveiled a new multimedia phone N95 offering a variety of enhanced multimedia features, including GPS function, that enables the phone to navigate you through cities.

The N95, the latest futuristic model in the N Series range, which the company said has sold 10 million sets worldwide, will hit retail stands, including in India, in the first quarter of 2007 and is likely to be priced at around euro550.

"The Nokia N95 brings a range of multimedia features together, such as a fantastic display, outstanding photo and video capability and high-speed connectivity, making it an excellent multimedia computer," Nokia Asia-Pacific Multimedia Vice-President Jose-Luis Martinez told reporters in Manila after unveiling the new range last evening.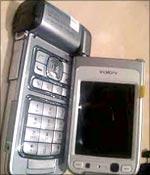 The N95, referred to as "an all-in-one multimedia computer" by Nokia, is a 2-way slide phone sporting integrated GPS functionality, a 5 megapixel camera and support for high-speed mobile networks, making it easier to watch and record videos, listen to songs, take high-quality photos, browse the Internet or catch up on email while on the move.

The 2-way slide concept in the phone makes it easy to switch between different modes, going from reading maps to watching a video with a simple slide.

A numeric keypad slides out from one end of the device while dedicated media keys slide out from the opposite direction, converting the display into full screen landscape mode. 

"This single device, which fits easily in your pocket, can replace stand-alone devices that you no longer need to carry
individually,
whether it is your music player, your digital camera, PDA or navigation device. Most importantly, the Nokia N95 is with you and connected when you want to use it," Martinez said.
Elaborating on the GPS functionality, the first for Nokia phones, Martinez said it allows users to locate points of
interests and find their way using the integrated GPS feature. 
"The maps cover more than 100 countries and 15 million points of interests, enabling users to explore the world," he said, though refusing to identify the cities and areas where the service would be functional.
When operational, the GPS feature would allow N95 users to search for local vicinity favourites like the most popular food places, buildings and save their favourite locations.
They can also purchase additional features such as voice guided navigation instructions, the company said.
This is also the first time that Nokia is offering a 5 megapixel camera on its phones.
"With the Carl Zeiss optics on the 5 megapixel camera, you can capture print quality photos and DVD-like quality video clips. Photos and video clips can be enjoyed on a compatible television set," Nokia said.
Designed for High Speed Downlink Packet Access networks and with support for WLAN, EDGE and WCDMA networks, the Nokia N95 provides excellent coverage and speeds.
In HSDPA networks, browsing the Internet, reading e-mail, streaming video and downloading large files can be carried out up to 10 times faster than with 3G.
Nokia also unveiled music versions of its N70, N73 and N91 phones, with the N91 8GB music edition fitting 6,000 songs.