ITC, TCS and HDFC Bank emerged as the biggest gainers during the period.

As the benchmark sensitive index Sensex added over 300 points last week, nine of the top 10 most valued companies saw a combined addition of Rs 1,14,806 crore to their market capitalisation over the past week.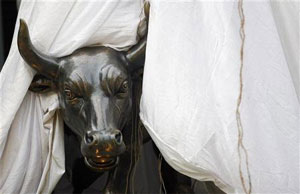 ITC, TCS and HDFC Bank emerged as the biggest gainers during the period.

Meanwhile, Coal India defied the broader market sentiment as the market worth of the company eroded by Rs 5,906 crore during the past week.

In the ranking of the top 10 Sensex companies, TCS remained at top, followed by Reliance, ITC, ONGC, Infosys, HDFC Bank, Coal India, Wipro, Tata Motors and Sun Pharmaceuticals.

ITC's value increased by a whopping Rs 80,774 crore to Rs 2,52,232 crore. The firm was the biggest gainer during the week, followed by TCS which saw an addition of Rs 7,947 crore to Rs 4,31,968 crore.

Energy major Reliance's m-cap jumped by Rs 2,926 crore to Rs 2,62,185 crore, while IT major Wipro's market worth soared by Rs 4,635 crore to Rs 1,40,992 crore.

The m-cap of HDFC Bank surged by Rs 6,985 crore to Rs 1,59,307 crore, while ONGC's market capitalisation rose to Rs 2,36,901 crore during the week as the company added Rs 1,124 crore during the week.

IT firm Infosys added Rs 6,589 crore in the past week pursuant to which its m-cap swelled to Rs 2,15,436 crore.

The m-cap of Tata Motors jumped by Rs 1,889 crore to Rs 1,06,672 crore, while Sun Pharma's market worth shot up by Rs 1,937 crore to Rs 1,27,227 crore.

The 30-share benchmark index ended 333.93 points higher for the week on optimism over interim budget announcements.

The 50-scrip NSE index Nifty also regained the key 6,100 level by rising 1.05 per cent, to end at 6,155.45. For the week, the NSE barometer gained 107.10 points.