Goldman Sachs maintains its "overweight" call on Indian stocks, with an end-2013 target for the Nifty of 7,000 points.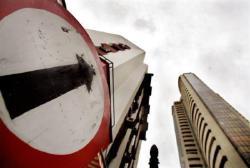 Goldman includes Bajaj Auto Ltd [ Get Quote ] and Tata Steel Ltd [ Get Quote ] in its Asia-Pacific "growth recovery" group of stocks that have favourable growth and valuations, according to its Asia-Pacific outlook report dated Jan 4.

The bank sees Infosys [ Get Quote ] as a stock with a potential "catch-up" opportunity after lagging in 2012.

Infosys shares fell 16.2 percent in 2012, widely under-performing the broader 27.7 percent gain in the Sensex.

Goldman also highlights Tata Motors [ Get Quote ], Sterlite Industries (India) Ltd and Hindalco Industries Ltd [ Get Quote ] as stocks with favourable macro exposure and attractive profiles versus regional peers.