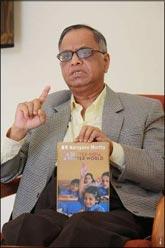 N R Narayana Murthy, chairman and chief mentor of India's second-largest IT services firm Infosys Technologies, has christened his to-be-launched venture capital fund the 'Catamaran Venture Fund'.
Catamaran has its origin in the Tamil word 'kattumaram', which is a type of a multi-hulled country boat comprising two hulls joined with some structure. It is used by the fishing community off the southern coast of Tamil Nadu.
In a telephonic interaction with the local media here today, Murthy said he raised Rs 177 crore (Rs 1.77 billion) by offloading 800,000 equity shares from his personal holding in Infosys and, if required, he would think about further fund-raising at the "appropriate time".
"Possibly yes. I have been thinking about it, but certainly at an appropriate time, I would raise some more money," he said.
Murthy said the fund would primarily look at early stage investments or 'angel funding'. For now, he will be the only person who will manage the fund. Although, he added that he planned to have a team of three-four experienced people to manage the fund at a later date.
"The objective will be to look at opportunities offered by entrepreneurs in a wide variety of fields, a broad spectrum of fields. I don't want to limit it to one field, like hi-tech or retail or any of those. In India, if you limit yourself to one area, then the number of opportunities is not as high as elsewhere. Hopefully, in the next few months, I will be able to put this into action," Murthy said.
After the dilution of his stake in the company, Murthy's holding in Infosys has come down to 0.41 per cent from the earlier 0.55 per cent. However, Murthy -- along with his family members, including daughter Akshata and son Rohan -- control a 4.83 per cent stake in Infosys valued at close to Rs 6,200 crore (Rs 62 billion).