Mumbai-born, Tampa Bay, Florida-raised Ameek Ashok Ponda, a tax partner of the Boston-based Sullivan & Worcester LLP law firm and a member of its management committee, has been appointed to the Internal Revenue Service Advisory Council.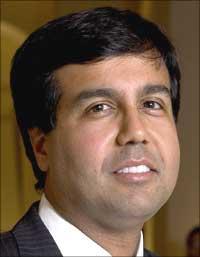 IRS commissioner Doug Shulman while announcing the appointment of Ponda and six other members to the Council for a three-year term, said, "IRSAC members provide feedback and insight on a wide variety of issues related to providing sound tax administration."
According to the IRS, IRSAC members include lawyers, accountants, academics and economists around the country. As an advisory body designed to focus on broad policy issues, it reviews and comments on taxation policies, procedures and programs, with a view to advising the IRS commissioner on matters of tax administration and to suggesting operational improvements.
Members essentially represent the taxpaying public, tax professionals, small and large businesses and the payroll community. The council, which meets periodically, will submit a report to the agency in November at a public meeting.
Joel R Carpenter, co-managing partner of Sullivan & Worcester, elated over Ponda's appointment and a shot in the arm for the firm, considered one of the country's leading company's in the field of tax laws, said,  "Ameek's appointment to IRSAC's very select group of tax professionals is testament to his expertise and his commitment to improving our taxation system."
"Ameek follows in the footsteps of the founder of Sullivan & Worcester's Tax Department, Frederic Corneel, a recognised giant in the tax bar who 20 years ago served on the IRS Commissioner's Advisory Group, the predecessor body to IRSAC," he said.
Carpenter said that Ponda's appointment in the footsteps of Corneel "makes us all proud that members of our tax department are so civic minded, even as they continue to steadfastly serve the needs of our clients."
Ponda is currently director of the firm's tax department, which is among the six finalist law firms nationwide for Chambers USA Awards for Excellence 2010 in Taxation Law.
He has published numerous articles in leading tax journals, which have been recognised for their analytical depth and their prescriptions for tax policy, with several of them precipitating changes at the treasury department leading to changes in federal tax laws.
Ponda told rediff.com, that "it's truly an honour to be selected as a member of this advisory council," and said that since "our federal government relies enormously on the IRS to effectively and efficiently administer our tax system and collect taxes, public input into that process can only advance the cause of sound tax administration."
"I look forward to contributing to IRSAC's mission," he said and added that he brings to the table his years of expertise in tax laws both from a professional and academic background.
While noting that he expects his contributions to IRSAC "will generally stem from my professional background as a tax lawyer in private practice," Ponda acknowledged that "every now and then, I may be able to offer some insights that come from being an Indian American."
"For example," he said, "the IRS has an interest in knowing that American citizens and residents don't use offshore accounts and investments to hide income and evade US taxes, and the IRS naturally employs penalties and other sanctions to go after people who do not report these matters."
Ponda said, "But I know that many immigrants will inherit offshore assets from family members abroad, and my feeling is that these Americans should not be overly penalised for small reporting failures, that is, I think the IRS penalties and sanctions in these contexts need to be applied sensibly and with a little clemency."
Ponda, who is actively involved in cultivating a new generation of tax lawyers, for more than a decade, had been an adjunct faculty member at Boston University School of Law's Graduate Tax Program, teaching courses in Business Tax Planning, Corporate Mergers and Acquisitions, International Transactions, and Financial Products.
Daniel M Berman, director of the Graduate Tax Program at the Boston University School of Law, said that "Ameek's a stalwart member of our nationally recognised tax law faculty for over 10 years, and at times has taught as many as three courses a year."
Berman predicted that Ponda would be "a fantastic and energetic addition to IRSAC."
Ponda, a member of the American Law Institute, the International Fiscal Association, and the National Association of Real Estate Investment Trusts, has also been heavily involved in the professional Indian American and South Asian American associations, particularly the Indus Entrepreneurs and the South Asian Bar Association of Greater Boston.
SABAGB president Natasha Varyani declared, "He is a doyen of the tax bar, and will bring real world experience and practical insights to IRSAC's mission.
Ponda also said that he "derives significant personal fulfillment from his participation in the Indian community," and talks animatedly about how he volunteered for years as a Hindu language teacher with Sishu Bharati, a weekend school for Indian language and culture in the Boston area."
"And, a few years ago, I also helped edit an introductory Urdu college text book," he said. "I have also run marathons to raise funds for Team AID-Asha, which is committed to secular development and education in India."
Ponda said, "Indian language and culture carry very special meaning for me. Some might think I am giving back to the community, but I don't see it as so selfless. I am enriched through this participation and am really getting more than I might be giving."
In 2007, Ponda, an alumnus  of Harvard College, Harvard Law School and Boston University School of Law, from where he received a BA in 1989,  JD in 1992, and LLM in 1996 respectively, was selected as one of Boston Business Journal's '40 Under 40' an award recognising Boston's next generation of business leaders and innovators.