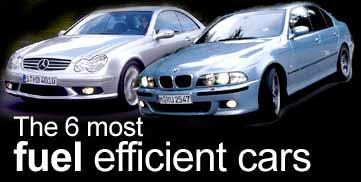 Indians generally pay more for a litre of fuel than others in most countries, the recent fuel price hike notwithstanding. So we thought now is a good time to tell you what cars fuel-conscious citizens across the globe are driving.
33 kpl
VW Lupo 3L TDi
Type:    A-segment hatchback
Engine: Diesel, 1200cc 3-cylinder turbo direct injection
Power:  61 bhp@4000 rpm
Torque: 14.3 kgm@1800-2400 rpm
Performance: Top speed: 163 kph
Also found in: Audi A2 3L TDi
Indian equal:  Maruti Alto, 45 bhp, 14 kpl
Claim to fame: The world's first-ever 3 litre car, it is capable of travelling 100 km on just 3 litres of diesel. The Lupo also managed to set a new record that seems unbeatable for many more years to come - going around the world in 80 days, travelling 33,333 kilometres across five continents using only 792.57 litres of diesel... at an average speed of 85.6 kph. In other words, a round-the world trip for about Rs 20,000!
Technology: The engine turns off automatically after three seconds of idle, to start it again, all you need is a dab at the gas pedal. A clutchless manual transmission prevents unnecessary revving during gear changes, while its tyres are engineered to minimise rolling resistance.
24 kpl
Toyota Prius
Type:  C-segment four-door hatchback
Engine: Petrol-electric, 1497cc, DOHC VVTi, 16 valve inline 4
Power:  76 bhp@5000 rpm
Torque: 11.3 kgm@4,200 rpm
Performance:  0-96 kph: 12.69 secs, Top speed: 160 kph
Also found in:  Lexus will launch a hybrid SUV, the 400h soon
Indian equal:   Maruti Baleno, 94 bhp, 11 kpl
Claim to fame: Perhaps the only car around which is more economical in city driving conditions than on the highway! It's clean enough to meet the toughest regulations in the world - California's proposed zero-emission (ATPZEV) norms. Its hydrocarbon and nitrogen oxide emissions are 80 and 87.5 per cent (respectively) lower than required by EURO 4 for petrol engines!
Technology: The Prius operates as an electric-only car at low speeds, automatically starting its engine whenever the accelerator demands more go-power. It's also is kitted out with a high-tech, electronic continuously variable transmission (ECVT) to make the process totally effortless. Toyota advises owners to avoid `max' on the aircon and using the rear defogger - the petrol engine will have to work constantly, reducing economy!
23 kpl
Opel Astra Caravan ECO4
Type:  Family station wagon
Engine: Diesel, 1700 cc turbo common rail direct injection, DOHC inline 4
Power:  80 bhp
Torque: 17.3 kgm
Performance: Top speed: 173 kph
Also found in: Opel Astra sedan
Indian equal:  Skoda Octavia 1.9 TDi, 90 bhp, 13 kpl
Claim to fame: While India is yet to come face to face with EURO 3 norms (or the equivalent) , the Astra Caravan, launched as far back as April 2003, became the first series-production diesel car in the world to meet the requirements of the EURO 4 emission norms. Interestingly, these will come into effect only in 2005... in Europe!
Technology: The all-new Ecotec turbo diesel engine features double overhead camshafts - a feature normally associated with rev-happy, performance petrol engines. Of course, it also has the now-de rigeur common rail direct injection system for fuel delivery, as also a specially engineered five-speed manual transmission system to complete the powertrain package.
17 kpl
2004 Ford Escape Hybrid
Type:     SUV
Engine:    Petrol, 2300 cc DOHC 16-valve, Atkinson cycle inline 4, 65-kW electric assist motor
Power:    133 bhp@6000 rpm, 155 bhp (petrol+electric)
Torque:    17.8 kgm@4500 rpm
Performance:    NA
Also found in:    NA
Indian equal:    Nissan X-Trail, 134 bhp,14 kpl
Claim to fame: 'Acceleration of a 200 bhp V6,' according to Ford. Also, 'the acceleration of a V6 engine, the fuel economy of a small car and the utility of a normal SUV.' Quite simply, a mud-wrestler that's as frugal as a tarmac-worshipper. We can't seem to recall any around...
Technology: Aisin AW, Ford's new hybrid powertrain includes a 300-volt nickel-metal-hydride battery pack located underneath the rear cargo floor. The battery pack incidentally, comes with a limited warranty of 8 years/160,000 km - this probably means that even if you get electrocuted, the car will still run. The engine features four-hole fuel injectors for finer atomisation as also an Atkinson cycle which slightly delays intake valve closing, increasing the engine's overall energy efficiency as a result.
14 kpl
BMW 330d
Type:     Sport sedan
Engine:    Diesel, 2926cc, turbo 24-valve, 6 cylinder
Power:    204 bhp@4000 rpm
Torque:    42 kgm@1750-3200
Performance:     0-100 kph: 7.8 secs, Top speed: 227 kph
Also found in:    BMW 5-Series
Indian equal:     Mercedes-Benz C220 CDI, 141 bhp, 11.5 kpl
Claim to fame: More torque than even an M3! And that means in-gear acceleration blows many petrol sports cars into the weeds. There are other sedans that match or surpass the 330d's performance, but not one in the world that manages it as frugally.
Technology: New and improved material and revised turbine blade technology has been applied to the variable vane turbocharger to provide increased performance. While one of the latest high-pressure common rail systems available anywhere, works wonders for performance and economy here. And guess what? The car is about the most silent diesels in the world today... shhhh.
9 kpl
VW Phaeton V10 TDi
Type:     Luxury sedan
Engine:     Diesel, 5000cc bi-turbo, independent 'Pumpe deuse' direct injection V10
Power:     313 bhp
Torque:     76.5 kgm@2000 rpm upwards
Performance:     0-96 kph: 7 secs, Top speed: 248 kph
Also found in:     VW Touareg
Indian equal:     Mercedes-Benz S350 L, 241 bhp, 8 kpl
Claim to fame: The Phaeton's diesel mill walked all over other strong contenders for the above-4 litre class in the International Engine of the Year Awards this year. Contenders included the BMW 760i's 6000cc V12, the Ferrari 575M's 5700cc V12, the Mercedes-Benz S600/CL600's 5500cc unit and the Audi RS6's 4200cc V8. What's most emphatic is that the petrolhead American jury also voted in its favour... even though VW has no plans of selling the diesel Phaeton in the US of A!
Technology: VW's proprietary high-pressure (2,050bar) `pump-deuse' DI system and a bi-turbo setup, for starters. Then, a rigid aluminium crankcase which features a cast iron tunnel into which combustion forces are fed directly via the cylinder head studs. The V10 also features a new VW-specific process - plasma-coated cylinder walls for tighter compression. And yes, the engine's effectively two five-cylinder units hooked up mechanically, but with separate exhaust and air intake systems.
Powered by