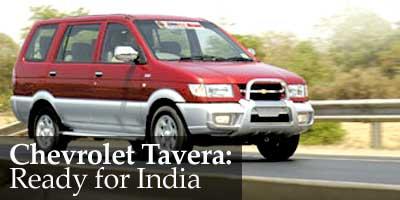 Over the years, General Motors have come to understand the psyche of the Indian consumer. They know what the Indian car-buyer wants. The origins of a car are of little consequence -- just give us reliability, fuel economy and above all, great value for money. And GM have learnt to oblige.
In Chevrolet, they're building a VFM brand under which they can sell various cars sourced from their multiple alliances from all over the world. Witness the Chevy Forester (Subaru), Chevy Optra (Daewoo) and now, the Chevy Tavera, which is basically a born-again Isuzu Panther.
With the Tavera, GM hope to capture a slice of the 1,00,000-units-a-year MUV market in India. And why not.
We were invited to GM's plant in Halol (near Baroda) to drive a pre-production Tavera and the first thing about Baroda that struck us was the heat. On the day of our drive, the city was baking  in temperatures of 42-degrees Celsius.
And while being transported from our hotel to the GM plant in an Optra, we caught our first glimpse of a Tavera that was being driven out of the plant. Painted in pristine white and free from any add-on adornments, the Tavera looked like a clean, honest and well-proportioned utility-vehicle.
In the styling department, it quite whups the current-generation Qualis, though the next-gen Qualis (which is due to arrive soon) might change that.  
We were slated to drive a top-of-the-line Tavera SS and I couldn't help noticing the snazzy-looking bull bar at the front, 'Turbo' badging on the flanks, chrome-plated mirror-housings, front foglamps, side-cladding and twin-tone paint.
Okay, so it'll never be an SUV, but you can make out that the Tavera's been trying. The Chevy is a mite longer (2 cm) than the Qualis and a full 11 cm longer than the Scorpio, but the latter is 2 cm wider.
Bottomline is, the Tavera doesn't come across as ungainly and carries its heft well. Our Tavera had a set of smart-looking 7-spoke alloys, which, combined with a short front overhang, lent the UV an almost sporty stance. Only, the longish rear overhang spoilt that effect a bit. Look at the SS from the front and it almost does a convincing SUV impression.
But look at it from the back or in profile and we're back in people-carrier territory. Which is just as well. We're told that GM have plans of selling this car in 8-, 9- and 10-seater versions and I'm sure taxi-operators around the country will love them all. And so will back-seat occupants.
The Tavera, bless its Japanese/American soul, has separate aircon vents for both rows of rear-seat  passengers.
What lies beneath. . .
Time to peek under the bonnet then. Lift the lid and you're greeted by a four-cylinder, 2499cc, direct injection turbodiesel. A low-stressed unit, it produces 79 horsepower at 3900 rpm and a more respectable 19 kgm of torque at a suitably low 1800 revs. This engine has been locally optimised for our driving conditions and is being manufactured under the guidance of Isuzu engineers, at Hindustan Motors' Pithampur facility.
In fact, the Tavera will go on sale with the highest level of indigenisation (85 per cent, compared to the Optra's 30 per cent and the Corsa's 60 per cent) amongst all GM cars.
The Tavera's engine is certainly no scorcher, but power output is adequate -- enough to get the job done. We pitted a pre-production Tavera against the clock -- with more or less predictable results. The Chevy went from 0 to 60 kph in 9.09 seconds and took 23.36 seconds to hit the 100 kph mark. It also did 130 kph down the Baroda-Halol highway, but I suspect the Tavera had another 10 kph in reserve.
This compares well with the diesel Qualis, which takes 9.46 seconds to hit 60 kph, 24.23 seconds to get to 100 kph and has a 130 kph top whack. The Scorpio, with its 30 bhp advantage over the Tavera, is significantly quicker and faster than the Chevy, but still, I'd say the Tavera's performance is acceptable for an MUV.
It won't go scorching down the road, but if that's what you want your Chevy to do, go buy a 'Vette. What'll be more relevant in the case of the Tavera is fuel economy and while we're yet to test that, GM claim it'll be better than either the Scorpio or the Qualis. So let's wait and see...
Climb inside the Tavera and there is a sense of deja vu. You feel like you've been there, seen that before. There are shades of the Qualis in there, though personally, I'd prefer the Tavera's cabin, which counters the Qualis' austerity with good cheer, lashings of plastic-wood, good quality cloth upholstery and a Chevrolet-branded FM/cassette-player.
The fascia is straightforward and controls are all stone-simple to use. The glovebox seemed a bit small to me and there's also a fair amount of grey plastic in there, but overall, I think I can live with the Tavera's cabin.
The seats are more comfortable than, say, a Qualis, though ride quality is about the same. What I don't like so much is the Tavera's longish gearlever. I found it a bit awkward to use and shift-quality wasn't very good either. Then again, GM representatives made it very clear that this was a pre-production car and that things will improve by the time the car is actually launched.
Surprisingly enough, the Tavera's handling is not all that bad either. Given that it's a big, heavy MUV, I wouldn't have been too surprised if it handled like a bag of potatoes, but the Tavera handles its bulk fairly well.
In order to see how easily the Tavera would get out of shape, I tapped the brakes hard (from a steady 70 kph, in a straight line) and swerved to the right. The Tavera squealed and squirmed and did a violent little tail-wag, but ultimately fell back in line, with its 205/65 R15 Bridgestones clinging to tarmac for all they were worth. I'll admit I was impressed - the Tavera's behaviour was better than I would have expected from a body-on-chassis MUV with leaf springs at the rear.
Will it, won't it. . . ?
After the Optra, GM might have another sales success in the Tavera. Though it doesn't really break any new ground -- stylewise or mechanically -- this car has the potential to unseat the Qualis.
I must say I didn't enjoy driving it as much as I enjoy a Scorpio, but the Tavera does no wrong either.
We're told that the Tavera will be sold in various seating configurations and prices will start from Rs 600,000 for the base model, stretching all the way to Rs 900,000 for the top-end variant.
In my opinion, the lower-priced variants will probably make more  sense and should provide good value for money. GM have picked the right  mass-market niche and if they play their cards right, the Tavera might just give a fresh lease  of life to GM's and Chevrolet's track record in India.
Powered by