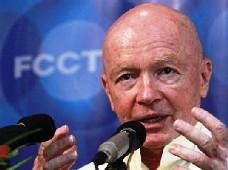 Mark Mobius, who oversees $50-billion investments as chairman of Franklin Templeton's Emerging Markets Group, finds midcap stocks attractive after the correction.

The Indian markets have risen 5.2 per cent in the last five days, but Mobius, who has one of the largest exposures to India among Brazil, Russia, India, China (BRIC) countries, says he cannot say the correction is over in the Indian markets.

However, post the fall, valuations have come down in small and medium cap stocks. Mobius says the top concerns among global investors are food inflation in India, given the rising consumption, and the availability of water for agriculture.

Mobius spoke at a press conference in Mumbai on Monday.

Indian markets have fallen 9.8 per cent since the November highs, but Mobius still finds them robust.

The Templeton India Growth Fund has exposure in raw materials such as iron ore companies, followed by banks, diversified financials, energy and the capital goods space.

Among individual stocks, the biggest holdings of the fund are Tata Chemicals, followed by Hindalco Industries, Reliance Infrastructure, ING Vysya Bank and Sesa Goa, each contributing 4 per cent of the portfolio.

The fund does not have any holdings in infrastructure stocks because the companies are not opaque.

Crude prices have risen around 20 per cent since the crisis in West Asia began; however, Mobius does not expect the risk appetite of investors to change towards India even though it is an oil importer.

"The rupee is appreciating and a 15-20 per cent spike in crude does not translate into the retail prices because the Indian government is very cautious in allowing the prices to move up too quickly, hence it will not impact the investor sentiment," he says.

After the crisis in Japan and West Asia, Mobius says, "surprisingly, we have not seen a change in the risk profile perception among the investors overseas and the tendency among them is to remain diversified."

"We are advising our global clients to stay invested in equities and remain diversified," says Mobius.

Mobius shrugs off talk of the Quantitative Easing Two programme of the US Federal Reserve coming to an end soon.

He says, "I do not expect the QE2 to end any time soon until the next election and until the unemployment rate comes down."

Furthermore, he says, "The QE2 has a snowball effect. If the US Treasury is printing and putting a lot of money into the system, everybody has to do the same thing because they do not want their currency to be stronger than the dollar, so that they can export."
Image: Mark Mobius | Photograph: Reuters