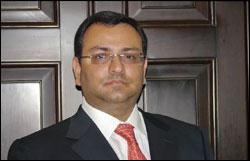 Tata Sons' chairman-designate Cyrus Mistry has been appointed as the Deputy Chairman of Tata Steel [ Get Quote ] and Tata Chemicals [ Get Quote ] on Friday.

"Cyrus P Mistry, deputy chairman of Tata Sons, has been appointed deputy chairman of Tata Steel with immediate effect," the company said in a filing to the BSE on Friday.

In a similar communique, Tata Chemicals also said the appointment as Deputy Chairman has been effected with immediate effect.

Mistry would be succeeding as the chairman of Tata Group.

Tata Motors [ Get Quote ] and Tata Consultancy Services [ Get Quote ] have also inducted Mistry as Deputy Chairman.

Tata Power [ Get Quote ] on Thursday said Mistry has been elevated as its chairman.

Mistry has been a Director of Tata Sons since 2006. He was appointed Deputy Chairman of Tata Sons in November 2011.