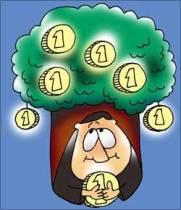 The UPA government's decision to ensure a minimum pension of Rs 1,000 a month under the retirement fund body EPFO's scheme, which will immediately benefit 28 lakh pensioners, is going to be a reality soon.
"The UPA government's decision to ensure minimum monthly pension of Rs 1,000 to subscribers of Employees' Pension Scheme-95 (EPS-95) will be implemented now as the elections are over," an EPFO official told PTI.
According to him, the decision could not be implemented because the model code of conduct (MCC) came into force once the general election were announced on March 5.
The new BJP-led government is to take office this week. The decision to provide the entitlement under EPS-95 run by the Employees' Provident Fund Organisation (EPFO) was taken by the Union Cabinet in its meeting held on February 28.
After the Cabinet approval under the UPA government, the decision to provide this entitlement was to be notified by the Labour Ministry, but that was not because of MCC.
The move will immediately benefit about 28 lakh pensioners including 5 lakh widows. In all, there are 44 lakh pensioners.
EPFO trustees had approved the proposal in February only. The Central Board of Trustees (CBT), the apex decision making body of EPFO had met on February 5, and decided to amend the EPS-95 scheme for the purpose.
The proposal was placed before the Union Cabinet for approval as the government had made funding provisions for it. The government will have to provide an additional amount of around Rs 1,217 crore to ensure the minimum pension of Rs 1,000 starting 2014-15.
As per the proposal, the pensioners are to get the benefit with effect from April 1. The proposal has already been approved by the Finance Ministry.
Besides minimum pension entitlement, another decision of CBT to increase maximum basic wage ceiling to Rs 15,000 per month from Rs 6,500 is also held back due to MCC. It is also expected be notified by Labour Ministry after the new government is formed.
The raising of wage ceiling is also expected to bring in 50 lakh more workers under the ambit of schemes run by EPFO.
At present, workers whose basic wage at the time of joining is up to Rs 6,500 per month, including basic pay and dearness allowance, can be subscribers to a social security schemes run by EPFO.