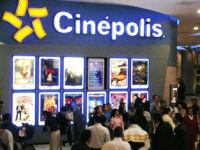 Gujarat seems to have caught the fancy of Mexican multiplex chain Cinepolis.
The multiplex operator, which has over 2,500 screens across various countries, is all set to mark its entry in Gujarat by opening its first multiplex at Alpha One mall in Ahmedabad. The international multiplex operator is also looking at cities like Vadodara, Surat and Rajkot to expand its network in the state.
Talking about Cinepolis' plans for the Gujarat market, Deepak Marda, Associate MD and Country Head, Cinepolis India said: "Gujarat is a key strategic market for us. With our first offering of a 6 screener at Alpha G: 1 mall in Vastrapur, we plan to introduce Amadavadis to world-class cinema viewing experience.
"We want to energise the whole multiplex screen segment and are expecting proportionate footfall. We are happy to tie up with one of the largest malls in Ahmedabad and begin our journey with the mall from September 2011."
After Ahmedabad, Cinepolis would be opening up a multiplex in Surat and Vadodara by the end of the year.
Having started in Amritsar in December 2009, the company now plans to expand in 40
other cities in India including cities like NCR, Bangalore, Hyderabad and Chennai.
The company aims to have at least 300 screens in the country by the end of this year and 500 over the period of next three years.
Headquartered in Morelia, Mexico, Cinepolis is the first international exhibitor in India and it is one of the the first brands to have started a 'megaplex' in India.
The brand specialises in coming up with 'megaplexes' that are multiplexes offering more than 10 screens in one or more locations.
"All our screens are 3D screens and we offer our patrons better legroom, better viewing from any angle, which is missing in many multiplexes operating today.
"We also have four VIP screens that offer luxury cinema viewing to our patrons. Also we are a pioneer in VIP screening that gives a never before seen viewing experience to our customers.
"With an international experience of 40 years in emerging economies, our servicing meets international standards. We have tried to raise the bar with our superior designs and our servicing that meets international standards," Marda added.