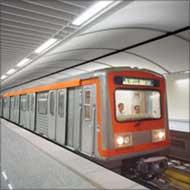 The Mumbai Metropolitan Region Development Authority is exploring the possibility of constructing metro rail routes along the Western and Eastern Express highways to further ease traffic congestion in the metropolis.


The MMRDA wants to club the spacious roads along the express highways with metro rail lines and special dedicated bus lanes.


"Our experts have envisioned the infrastructure needs of beyond five-years and more in these projects. Cutting complex corners of land acquisition and facilities for installing projects, these highways offer tremendous opportunities for solving the city's commutation problems," MMRDA's joint project director (PR), Dilip Kawathkar, said.
The MMRDA is planning to turn the highways into the core hub of Mass Rapid Transportation System through these projects, he said.
The MMRDA, under its Bus Rapid Transit System, is also planning to set up a dedicated BEST bus route along the Western Express highway.
A special committee has been set up to give a detailed feasibility report on the same. "The report would be submitted soon," Kawathkar said.
Fares for the first metro rail corridor -- Versova-Andheri-Ghatkopar would range between Rs 6 and Rs 10, while for the second route -- Charkop-Bandra-Mankhurd -- charges are fixed between Rs 8 and Rs 24, depending on the distance.