Chinese computer maker Lenovo has been working on a new strategy and that makes Rajesh Thadani, director, consumer segment, a busy man.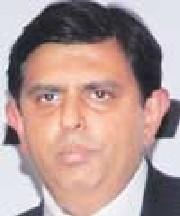 Currently ranked fourth in a market dominated by HP, Dell and Acer, Lenovo India is poised for growth and is planning to bring in a new range of products.

Recently, Lenovo India Managing Director Amar Babu said: "If we need to succeed in a market like India, strengthening channel partnership is the key for the road ahead."

For someone like Thadani, a veteran in connecting companies with customers, the idea to strengthen channel partnership is a great opportunity.

With an experience of 16 years in the industry, he has seen the evolution of channel business in the country.

Before joining Lenovo India in February 2010, Thadani was the country manager of Business Partners associated with IBM India.

For him, joining Lenovo in 2010 was like returning home. When IBM decided to sell its PC business to Lenovo in 2004, he joined Lenovo as the country manager (sales transaction business) in 2005.

In his new position, he designed strategy to make the Chinese company one of the top brands in the country.

"To become customers' favourite, it is important to understand customers' needs, learn their problems and provide them better comfort and service. We are planning to open more exclusive showrooms, retail partnerships and other channel programmes to reach more customers," he says.

An MA in marketing management from the Mumbai University who also holds an engineering degree from the Pune University, Thadani loves travelling, exploring new places and learning new technology trends.

Besides his stints at IBM and Lenovo, he has also worked as the business manager (networking) at Ingram Micro India and as a deputy manager (channel sales) at Godrej Pacific Tech.